FELIXprinters AM Platforms —  An Alternative to Injection Moulding?
June 13, 2019
Full Upgrade Options for 3D Printing – The Sustainable Solution
July 30, 2019
By Wilgo Feliksdal
Over the last 12-18 months, FELIXprinters has undergone a transition as a business with an intentional repositioning towards industrial 3D printing. The visible result of this is the introduction of the new Pro Series platforms, which include the Pro 3 and the Pro L/XL. This family of machines incorporate all of the latest engineering know-how and expertise from the FELIXprinters team, all with engineering backgrounds that have listened to what their industrial clients have been telling them about the pain points often experienced with 3D printing.
Time and again, the feedback came through — reliability, consistent accuracy, ease of use and a good return on investment through a reasonable price | performance ratio were the factors in the 3D printing equation that industrial users want and need to perform their daily tasks.
There is no denying that companies considering 3D printing as a manufacturing tool are confronted with a dizzying array of choices and voices, particularly when it comes to desktop 3D printers, like the FELIX Pro 3. Many of them saying the same thing, along the lines of "Our 3D printer offers the accuracy / reliability / ease of use that you are looking for."
Some of them do live up to the rhetoric, but many, particularly those at the lower end of the pricing scale, do not.Thus, once the 3D printer is put to work the lack of reliability, poor print output, high failure rates, and time-consuming operation become obvious and create frustration from the time and effort required to make the system function — even at a basic level. Within an industrial environment this is just not good enough.
Throughout its history, FELIXprinters has achieved a strong reputation for developing and delivering robust, reliable and accurate 3D printers, at a price that is comparable with less functionalalternatives. The company is aware that these words may sound the same as other 3D printing companies out there, so here we explain what we mean by reliability, consistent accuracy, ease of use and accessible pricing with particular reference to the FELIX Pro 3 platform, part of the Pro family. Furthermore, we will provide insight into how we achieve this and go on to back up our words through our post-sales service and lifetime upgrade options.
Reliability & Consistent Accuracy
The FELIXprinters Pro 3 builds on the previous generations of the system with new, novel features engineered from the ground up. The Pro 3 was the first FELIX platform to incorporate an innovative dual head printing system. It has been built from the ground up to enable a significant improvement in print quality as well as consistent accuracy. This claim can largely be attributed to sensors located in the printing head for filament flow detection. If a problem, such as filament running out or a clogged nozzle, arises the print is stopped immediately, the issue is raised and a failed print is avoided. This saves valuable time and prevents wasted filament.
Other key features of the Pro 3 that contribute to its reliability include the optimized extruder heater, which reduces dual head printing time by 50%. Moreover, print repeatability, that can be relied upon, is improved through achieving temperature stability in the heater blocks. This is coupled with a dual radial blower which provides three times more cooling power that is distributed homogenously and enables the extruder plastic to cool down faster and more evenly. This produces accurately defined print details, including overhangs.
When we say reliable, we mean reliable and invite you to challenge us.
Ease of Use
Right out of the box, the FELIX Pro 3 3D printer is straightforward and can be ready to print within minutes. We have tested this over and over – with our team and with users. Again there are a number of feature details, specifically built into the platform by the FELIX team, that ensure the 3D printing experience with the FELIX Pro 3 is pain free.
This starts even before the first layer is printed with the Pro 3's automatic and motorized calibration capability, enabled by the innovative probe sensor integrated in the print-head and motorized bed. A high quality print starts with a properly calibrated machine, which requires:
accurate measurement between the printhead and the print surface
a properly aligned print surface
correct height difference between print-head nozzles when using the dual head
correct distance between nozzles in the XY plane when using the dual head.
By automating the calibration process, users can save up to an hour compared with manual tweaking of the machine, to achieve much greater productivity and much less frustration.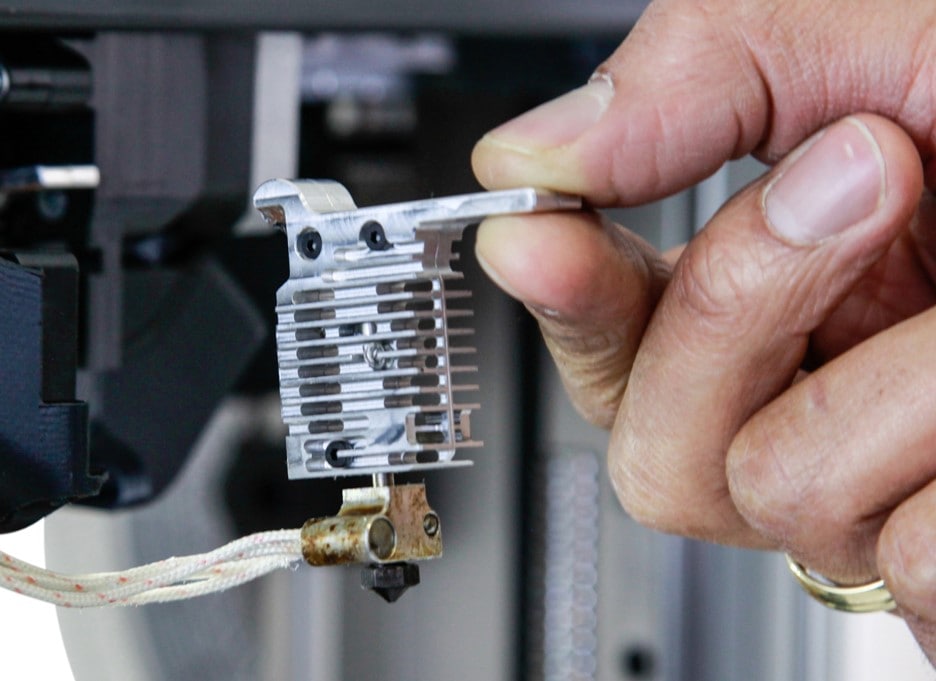 Another key feature of the FELIX Pro 3 is the proprietary QuickSwap printheads. The design of the printheads on the Pro 3 mean that users can literally swap out a printhead in 20 seconds or less. It has genuinely never been so simple, but it makes a huge difference to productivity, simplifies and speeds up maintenance, and provides users with the ability to switch materials quickly and easily and use different size nozzles as required, without having the change the set-up of the machine.
The FELIX Pro 3 also comes with a Flex plate as standard. This saves users time — at least 2-3 minutes per print — which adds up. The Flex plate also prevents damage when removing the printed object
The Pro 3 Touch is also supplied with an intuitive and easy to use touchscreen, which also allows multi-users, that can connect directly to print-file management capabilities and print-server.
Accessibility
The accessibility of the FELIX Pro 3 is two-fold, firstly through its ease of use, as described in the section above, making 3D printing accessible to engineering and manufacturing professionals that may not be experienced with 3D printing. However, the second way the FELIX Pro 3 is accessible for companies engaging with 3D printing is through its excellent price performance ratio, which provides superb return on investment (ROI).
The perception of 3D printing for industrial applications often involves high capital and running costs as well as high consumable costs.FELIXprinters has logically leveraged its capabilities and made an intelligent and concerted move to provide industrial AM solutions, at a price that makes them much more accessible to many industrial customers for a range of product development, engineering and manufacturing applications.
The Pro 3 has been designed and manufactured by FELIXprinters to offer the highest possible price / performance ratio in its class, and is available under €3000.  The emphasis is onexcellence in the build to ensure quality output — a system developed by engineers for engineers.
The Pro series, including the Pro 3, are a serious industrial tool that dependable and upgradable. These are just words, but we can back them up with high level service and support guarantees, and invite you to challenge us on any of the points in this article.