Large volume FDM plastic 3D printing for product development and manufacturing workflows
The FELIX Pro L and XL
Print up to 4x the buildvolume of most desktop printers reliably
The FELIX Pro L and XL are industrial additive manufacturing printers from FELIXprinters. This series provides a large build volume capacity, ideal to 3D print bigger parts.

These additive manufacturing systems have been designed to perform at scale, and both have been constructed to ensure reliable output for much larger parts.
The engineers at FELIXprinters fully understand the rigorous demands that are placed on an additive manufacturing machine when printing parts. Reliability and trust are the two main components when it comes to 3D printing larger parts. Larger parts equal longer prints. Start your print with the peace of mind that the print-run will deliver a successfully made, well-built part, meeting your expectations every time.
Build size (LxWxH): 300 x 400 x 400 mm or 11.8" x 15.75" x 15.75"
Build volume: 48 Liter / 12.7 Gallon
Build size (LxWxH): 600 x 400 x 600 mm or 23.62″ x 15.75″ x 23.62″
Build volume: 144 Liter / 42 Gallon
Industrial applications with the FELIX Pro L and XL
Design and test concepts with ease
Very low to zero iteration cost
Retain autonomy: produce and tweak multiple iteratinos until saved.Slash lead times with on-demand production and avoid outsourcing logistics
Create customizable tools fit for purpose.
Tools such as jugs, fixtures, nozzles, feeder bowls and brackets.
Create lighter, stronger and better tools.
Improve ergonomic design.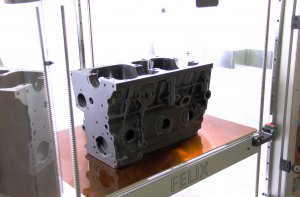 Create casting moulds and masters
Maintain control of the entire production process
Maintain control of the entire production process
Agile production method facilitates quick production turnaround.
Part cost is not connected with part complexity.
low downtime in the production cycle.
Design, test and manufacture larger parts using robust and reliable 3D printing
The FELIX Pro L and XL series provide a large build-volume platform for producing objects of up to 600x400x600mm.
Cut down weeks of waiting on third party suppliers.
Quickly and easily modify designs for fast iterations.
Cut down on the costs of traditional manufacturing methods for prototyping, tooling and end-part manufacturing.
Features designed for your maximum benefits.
Enjoy maximum design freedom with dual head printing. Print more delicate objects with soluble support material. Allows printing with two types of materials or two colours in a single print job.
Print head nozzles intelligently move away when idle, to avoid collision. This ensures accurate printing at optimal speeds. Print heads are quick-swappable, this can be done without tools in a matter of seconds.
Heated Bed with convenient flex plate
The high power aluminum casted and milled print bed heats up evenly to the optimal temperature within a few minutes to ensure optimal print adhesion.
For easy object removal, simply bend the flexplate and the object simply pops off the plate.
Automatic calibration of the print-heads and printbed, ensure an accurately calibrated printer, resulting in optimal print results.
Powerfull best in class Simplify3D software is easy to start with, but also fully customizable for the power user.
Enjoy 24/7 hassle free operation, due to the high quality components used in the printer.
For example, Linear HIWIN rails, rigid alumum frame, engineering grade plastics 
All printers are under strict quality control, during the build process. Each printer is tested at least 48 hours before shipped out.
Print progress monitoring
To ensure your printjob is properly printed, the filament flow and the mains power are continuously monitored. 
If filament is empty, the print will pause, till new filament is added.
If the mains power is lost, the built in UPS will save the print and allow the print to continue safely when the mains power is restored.
Never lose a print job or your valuable time.
The touchscreen with embedded print server gives the FELIX Pro L/XL super powers.
Enabling remote print file monitoring, multi-user environment and print-filemanagment.
Last but not least it is so powerful that it can control upto 10 different printers to create a printfarm. Also an embedded webcam gives ultimate control of the print-process.
Wide Selection of materials
The Pro L and XL can work with almost all commercially available plastic filaments. We have selected a subset of high quality filaments which are guaranteed to print without hassle
Implementing 3D printing as an effective prototype solution
The bottom line is I am past all of the novice mistakes and am now printing nice pieces with my FELIXprinter and I am extremely satisfied.  I have been telling everyone about them and their dedication to service.  An art that has been long lost with 90% of all other companies out there.  Felix, Andy and the Pali Proto team all know and understand how to take care of a customer.  I am very grateful for every one of them and I am looking forward to a fun 3D printing season.
Brad Martin, President A.F.C.
 
Pro L
Pro XL
Build Size XYZ (mm)
300x400x400
600x400x600
Build Volume (l)
48
144
Compatible materials
PLA, ABS, ASA, PVA, PETG, TPU, NYLON, and many more
Layer height (mm)
0.05 – 0.5
XYZ resolution (microns);
XY, 1.6, Z: 0.15
Print speed (mm/s)
150 (max)
Movement speed (mm/s)
350 (max)
Extruder type
Dual Direct Drive
Filament Diameter (mm)
1.75
Nozzle type
Standard 0.5mm brass, optional: 0.25, 0.35, 0.5 and 0.7mm hardened steel
Nozzle temperature (˚C)
280
Build platform
Aluminum casted buildplate, with spring steel flexplate
Bed Temperature (˚C)
110
Monitoring
Filament flow detection, Webcam, powerloss detection
Bed Temperature (˚C)
110
Machine Dimensions (mm);
600 x 660 x 766
906 x 666 x 966
Weight (kg);
63
80
Power Input
110V (50Hz) – 220V (60Hz)
Max Power (W)
1600
Connectivity
USB, LAN, WIFI
Safety Certification
CE
Download more information / Get quote?
Contact us, we are happy to discuss your application and needs to achieve a succesfull 3D printing experience.