Make Magazine, leading magazine and event organizer for makers, has officially released their 2018 version of their annual 3D printer review. In this year's edition Make has tested 19 high quality 3D printers from well known brands. FELIXprinters is listed as third best (out of 15) scoring brand with two 3D printer product lines.

When looking at individual product scores, both FELIX Pro and FELIX Tec Series made it to the top 10 of best 3D printers of 2018. The FELIX Tec series even came out as fourth best printer in the overall results and the FELIX Pro Series is only a few points behind.
During a three day long performance run, all machines are pushed to their limits. Especially on accuracy, bridging and overhangs both FELIX 3D printers scored very good results.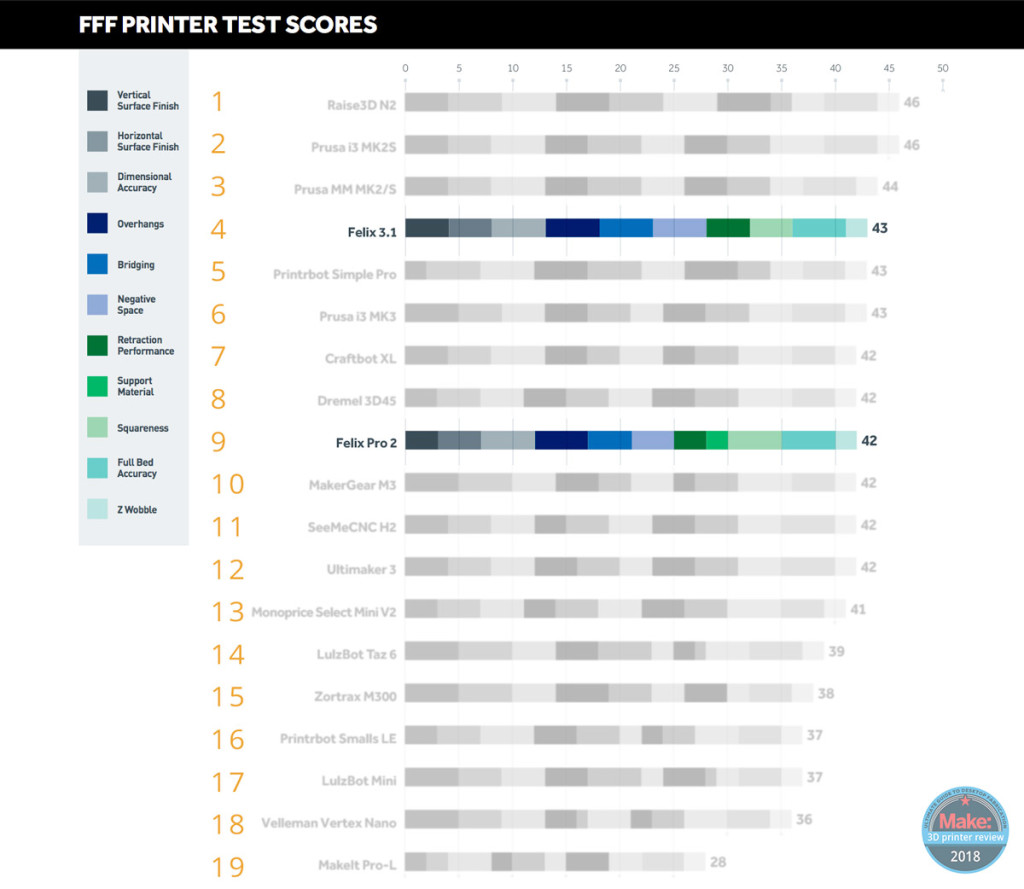 How the test is performed
Each year the Make team gathers for the shootout testing weekend, three straight days of putting these machines through a continuously improving process to try to see how they stack up against each other. The 13 Make reviewers work with nine separate test models that each look at a different and individual aspect of a 3D printer's performance. Which models the testers have used and what the purpose is of every test, is explained in the 60th edition of Make Magazine.
FELIX Tec Series
"The Felix 3.1's bulletproof construction, reliability, and customer service make it an attractive buy."
By the time the 3D printer review was performed, the Tec 4, which is the successor of the FELIX 3.1, was still partly in development and not ready for sale yet. Therefore we have send in a modified FELIX 3.1 Series with some features of the FELIX Tec 4. At the moment of publication, the Tec 4 is available for purchasing. More information can be found here: FELIX Tec 4
" We are of course very pleased our brand new 3D printer has scored so well even though by the time of the review it was partly being developed. The FELIX Tec 4 is the result of many years of development and It is very motivating for us to receive such positive feedback from an authority like Make Magazine." – Says Wilgo Feliksdal, CEO at FELIXprinters.
FELIX Pro Series
"Great new features make the printing process smooth, especially for beginners or users who just need their printers to work." 
"We noticed a growing demand for easy to operate and office suitable 3D printers. With the knowledge gained since 2011 from the current Tec Series, we released the first Pro Series model back in 2015." – Says Guillaume Feliksdal, Head of Design at FELIXprinters.
With many automated features such as automatic calibration, out-of-filament detection and a very low noise level, this is the perfect machine for professional purposes. More information can be found here: FELIX Pro 2
Full comparison
Curious to read the full 3D printer review between the 19 3D printers which have been tested? You can purchase your Make Magazine edition via the following link: Make Magazine Vol. 60
Also other production techniques such as SLA 3D printing and CNC tooling are being looked at.