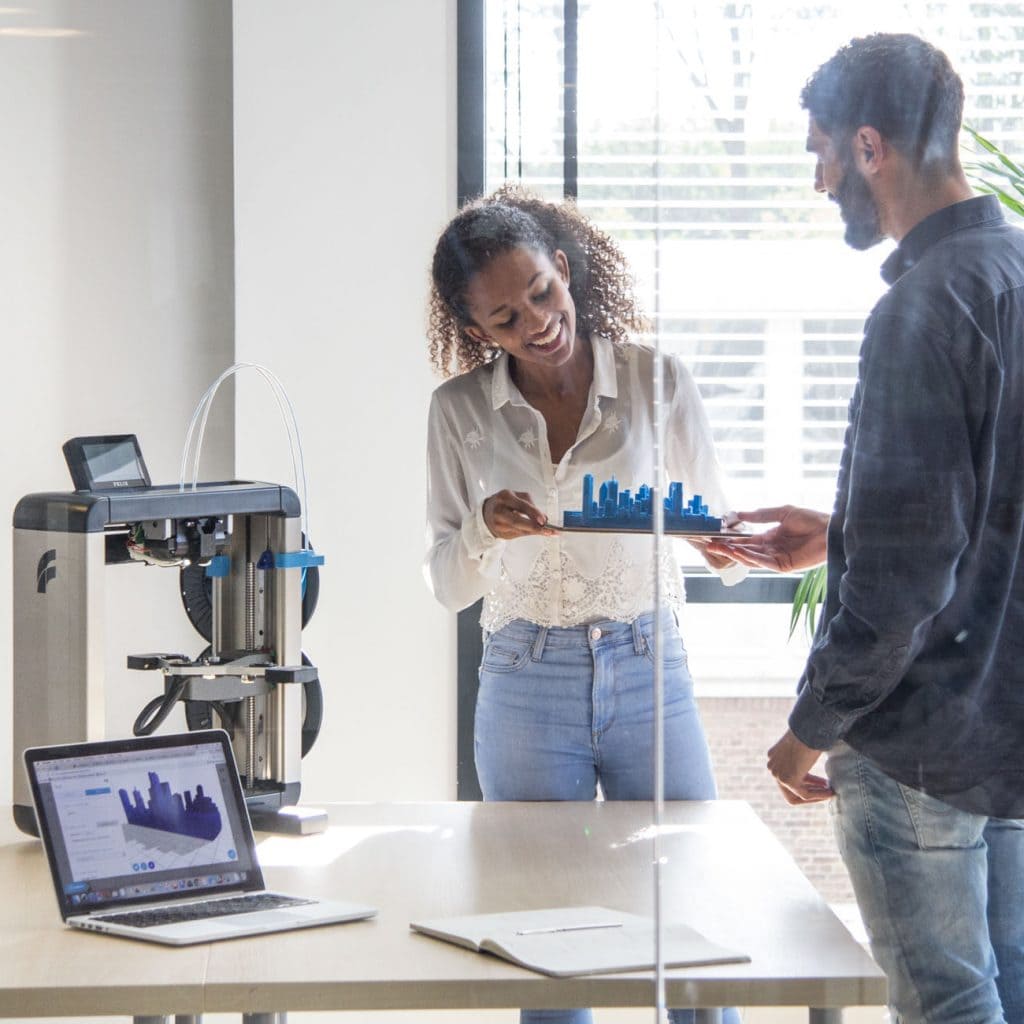 Voedsel printen
Voedsel printen voor meer smaak met minder smaakstoffen
Bij voedsel printen kun je denken aan bijzondere vormen of fraaie bedrukkingen om het eten niet alleen smakelijk, maar ook een lust voor het oog te laten zijn. Door voedsel te printen, kun je ook meer smaak geven aan etenswaren, terwijl je minder smaakstoffen gebruikt. Door je voedsel laag voor laag op te bouwen, kun je zout, suiker of andere toevoegingen die je gebruikt om smaak te geven, op heel specifieke plaatsen laten neerkomen. Door suiker of zout op een andere manier te verdelen in het voedsel, is er minder nodig om het eten op smaak te brengen dan wanneer je het door een voedingsproduct heen mengt. Door te experimenteren met nieuwe samenstellingen, verdelingen, texturen en vormen, kunnen compleet nieuwe voedingsmiddelen worden gecreëerd en kunnen bestaande etenswaren worden verbeterd.
Voedsel met een printer maken
Of je nu nieuw voedsel wilt maken, bestaand voedsel een boost wilt geven door extra bouwstoffen toe te voegen of dat je eten wilt produceren dat zo fraai is vormgegeven dat het bijna zonde is om op te eten, FELIXprinters kan je helpen bij het samenstellen van een 3D-printer die aan jouw persoonlijke vereisten voldoet. Als er specifieke toepassingen zijn waarvan je wilt dat de printer ze heeft om de door jou beoogde printdoelen te kunnen behalen, dan kun je contact opnemen met onze klantenservice. We zullen al je wensen bespreken en met een voorstel komen voor een printoplossing op maat.
Een voedselprinter kopen bij FELIXprinters
Je kunt je voedselprinter kopen bij FELIXprinters. Neem eens een kijkje in onze webshop en ontdek onder andere onze FELIX 3D Food printer. Als je een keuze hebt gemaakt en voor 12:00 uur bestelt, dan wordt je bestelling dezelfde dag nog, mits alle onderdelen op voorraad zijn, verzonden. Geassembleerde printers zullen binnen twee a drie werkdagen worden verzonden. Je kunt na je aankoop levenslang rekenen op onze ondersteuning bij vragen over je producten, software of upgrades. Je ontvangt een jaar garantie op onze hardware.
FELIX 3D printers
Range of Reliable & Accurate 3D Printers To Make Your Ideas Become Reality
ALL ABOUT FELIXPRINTERS AS FEATURED ON "DE BAROMETER"