INDUSTRIAL SECTORS SERVED by FELIXprinters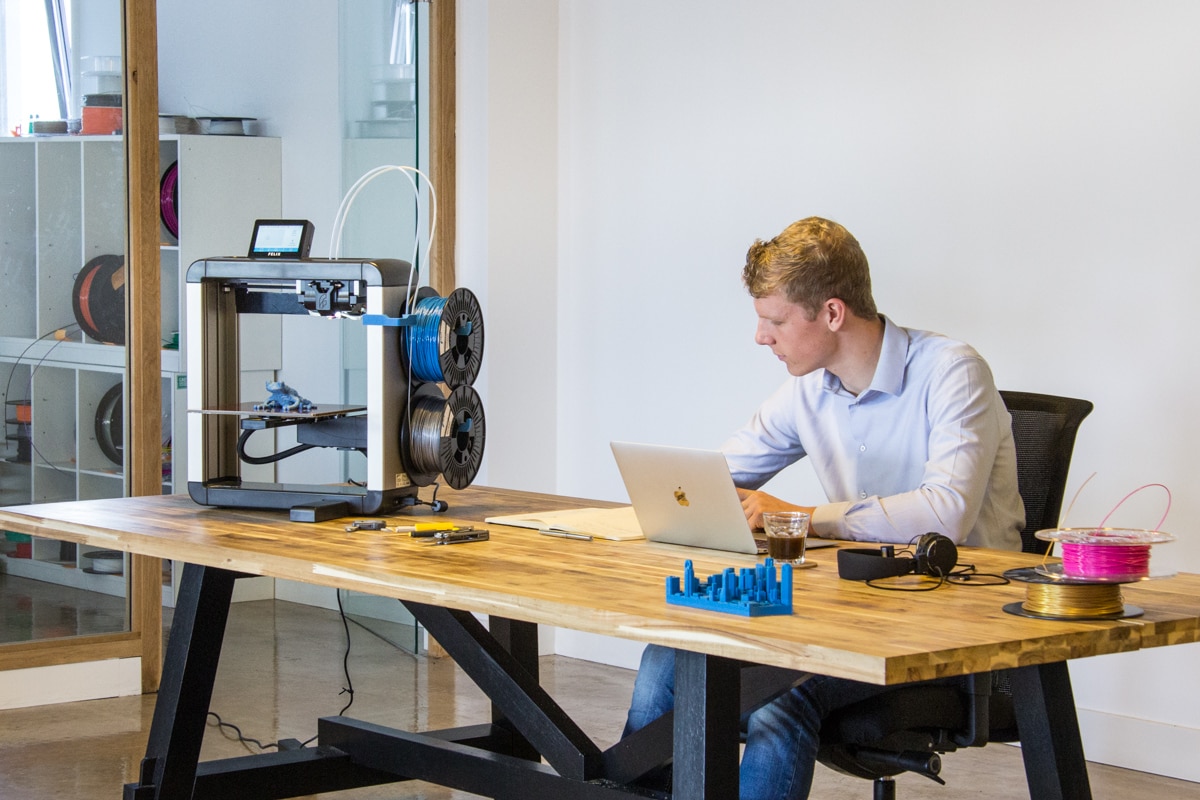 Impacting Different Vertical Sectors
3D printing technology continues to impact many different vertical sectors of industry. The key advantages of the technology are revolutionizing work flows and supply chains across high-end industries such as aerospace, automotive, healthcare (medical and dental), architecture, industrial equipment, and consumer products.
3D printers are being utilised by educational institutions and makers in growing numbers too — both of which feed into the continued industrial use.
FELIXprinters produces a series of 3D printers that cater to all of these markets for engineering, product development, and research applications. Clients are also starting to embrace end-use production applications with FELIXprinters, which is testament to their robust nature, reliability, and accurate output.
Looking for a custom 3D printing solution? We can help. Contact our sales department here.
Engineering
Design and engineering teams can benefit greatly from FELIX Pro 3D printers. Our printers:

Reduce product development lead times significantly, from months to weeks or even days.

Produce fast, economical concept models.

Promote fast and open collaboration across design teams with 3D printed concept prototypes

Allow teams to test form, fit and function of products and parts.

Allow teams to Identify errors or faults in the design more quickly than ever before, and fully verify the design ahead of committing to high cost tooling

Allow teams to iterate faster and more often to achieve the highest quality end part.
The economics of FELIXprinters ensure that designers and engineers can produce concept and functional prototypes at a fraction of the cost of out-sourcing prototyping requirements.
Production
3D printing is a highly cost-effective production method for small series parts, with extremely competitive cost per pert for low volumes runs when compared with traditional production methods.
A FELIX 3D printer not only reduces the cost of low volume production, but it also reduces the lead time for introducing new products to market, which lowers risk. Other advantages associated with the use of 3D printing as a production technology include:

Cost-effective personalization of products.

Just-in-time manufacturing which can reduce stock piles, as parts and components can be produced to order, thus reduce supply chain costs and financing issues.

The production of complex geometries, which means that complex assemblies consisting of multiple pieces can be consolidated into one part.
Looking for a custom 3D printing solution? We can help. Contact our sales department here.
Research
Using FELIXprinters Pro Series of 3D printers in research environments has a number of advantages including:

Reduction of development time by directly testing research solutions.

Verification of results before investing in expensive untested solutions.

Customized tools will increase the efficiency in any research.

Improvements in efficiency by testing hypotheses and printing tools in production-grade plastics.

Creation of prototypes allow validation of feasibility.

Allows for the develop and printing of customized tools to assist in research.

No valuable information needs to be shared with 3rd parties.