Industrial-grade 3D Printing
with Flexible Payment Solutions
Financial Lease, Rent, or Purchase starting from just 360 Euros per month
Why
lease / rent a FELIX printer?
Investing in a high-quality, industrial-grade 3D printer is a crucial decision for any business looking to embrace the power of additive manufacturing. But such an investment can be significant. That's where FELIXprinters' leasing / renting program comes into play.
Our new flagship 3D printer
Ready to push the boundaries of 3D printing? The 3.0 series are our most reliable, sturdy, durable & fast 3D printers up to date, ready to cater to all your industrial needs.
With our leasing & renting program you can take the perfect step into additive manufacturing.
Industrial applications with the FELIX Pro L and XL
Design and test concepts with ease
Very low to zero iteration costs
Retain autonomy: produce and tweak multiple iterations until saved. Slash lead times with on-demand production and avoid outsourcing logistics
Create customisable tools fit for purpose
Tools such as jugs, fixtures, nozzles, feeder bowls and brackets
Create lighter, stronger and better tools
Improve ergonomic design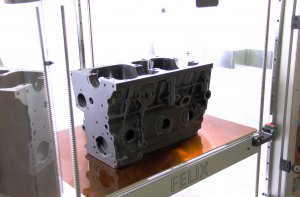 Create casting moulds and masters
Maintain control of the entire production process
Agile production method facilitates quick production turnaround
Part cost is not connected with part complexity
Low downtime in the production cycle
Design, test and manufacture larger parts using robust and reliable 3D printing
The FELIX Pro L and XL series provide a large build-volume platform for producing objects of up to 600x400x600mm.
Cut down weeks of waiting on third party suppliers.
Quickly and easily modify designs for fast iterations.
Cut down on the costs of traditional manufacturing methods for prototyping, tooling and end-part manufacturing.
Download more information / Get quote?
Contact us, we are happy to discuss your application and needs to achieve a succesfull 3D printing experience.