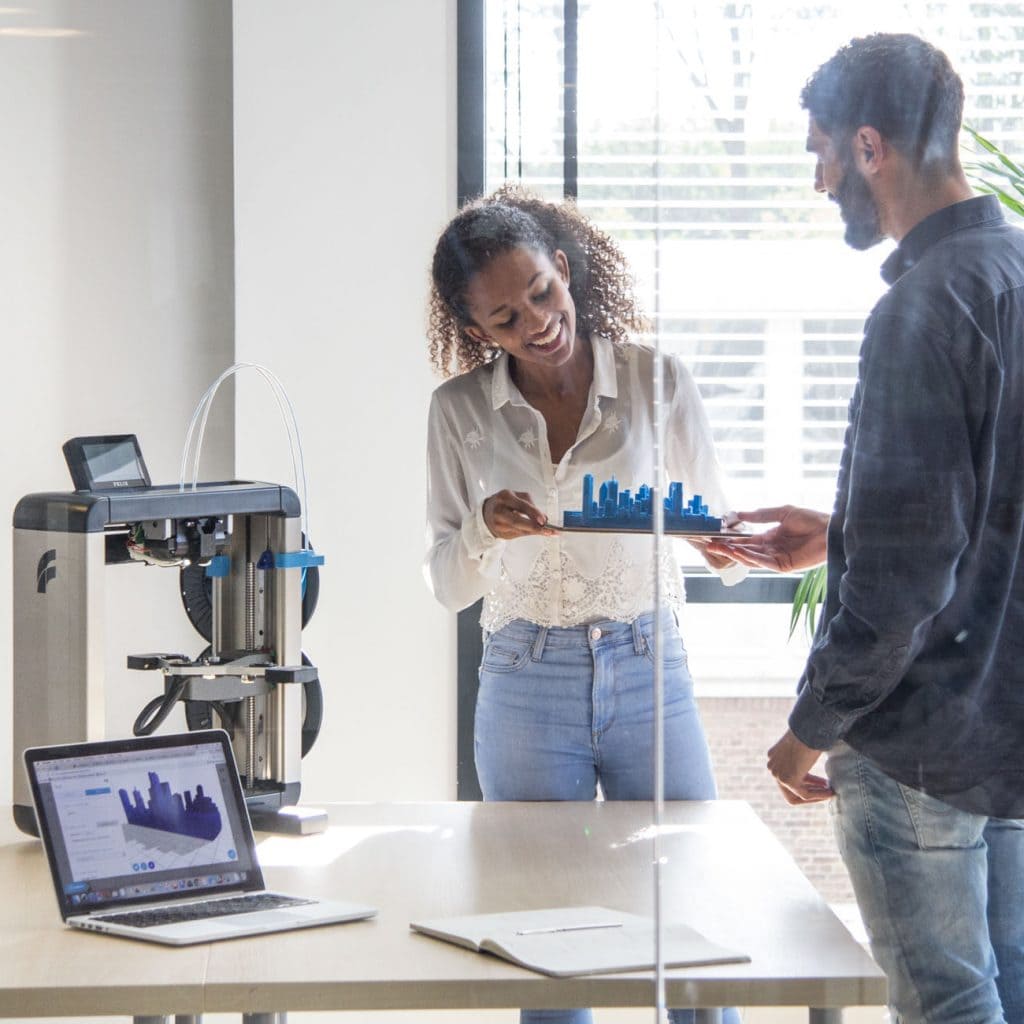 Industriële 3d printer aanschaffen

Een industriële 3D printer aanschaffen kan bedrijven veel opleveren
Toen de 3D printer zijn intrede deed, was nog niet iedereen overtuigd van de mogelijkheden van de printer. Inmiddels weet men beter en is de 3D printer in diverse branches al een vaste waarde. De ontwikkeling van 3D printers is nog steeds in ontwikkeling, dus de gebruikte technieken en mogelijkheden zullen na verloop van tijd veel uitgebreider worden. De diverse industriebranches zijn bij uitstek de plekken waar een industriële 3D printer aanschaffen nut heeft. De industrie kan met een 3D printer efficiënter en nauwkeuriger werken en er kunnen resultaten bereikt worden die nog nooit gezien zijn.
Wat kunnen industriële 3D printers?
De industriële 3D printers die specifiek voor de industrie ingezet worden moeten aan de hoogste eisen voldoen. In sommige sectoren wordt met zeer delicate materialen en producten gewerkt en daarbij wordt hoge kwaliteit verwacht. Lastige onderdelen voor in industriële machines kunnen gemakkelijk door industriële 3D printers worden geprint. Denk daarbij aan machines op maat, waar niet direct vervangende onderdelen voor te krijgen zijn. Ook in de biotechnologie zijn er al grote stappen gemaakt met de 3D printer. In de medische wereld wordt al geëxperimenteerd met het printen van organen en op kleine schaal wordt deze techniek al daadwerkelijk ingezet. Het is een kwestie van tijd,voordat industriële 3D printers tot de standaard uitrusting van industriële bedrijven gaat horen.
Een industriële 3D printer kopen bij FELIXprinters
Bedrijven die werkzaam in de industrie kunnen bij FELIXprinters een industriële 3D printer kopen. Voor iedere bedrijfstak in een bepaalde branche is wel een type 3D printer bij FELIXprinters te koop. FELIXprinter kan wanneer mogelijk de printer aanpassen aan specifiek gestelde eisen. Doordat FELIXprinters blijft doorontwikkelen en betrokken is bij diverse onderzoeken op het gebied van 3D printtechnologie, is de kwaliteit van de industriële 3D printers hoog. Ondernemers mogen bij aankoop van een industriële 3D printer bij FELIXprinter ook de nodige begeleiding verwachten.
FELIX 3D printers
Range of Reliable & Accurate 3D Printers To Make Your Ideas Become Reality
ALL ABOUT FELIXPRINTERS AS FEATURED ON "DE BAROMETER"