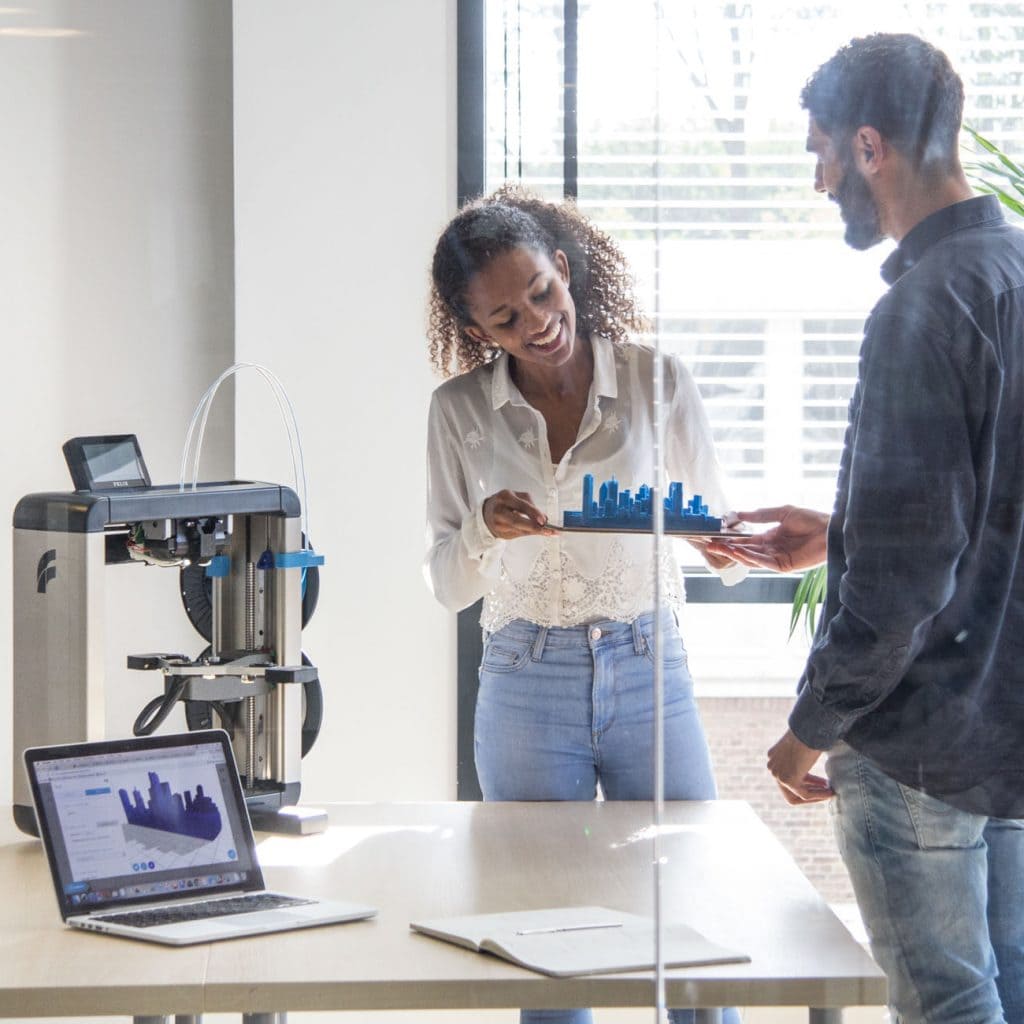 Hoge temperatuur 3D printer
Met een hoge temperatuur 3D printer wordt ieder ontwerp werkelijkheid
Welk soort filament een 3D printer gebruikt, bepaalt in grote mate hoe de 3D printer werkt. Een hoge temperatuur 3D printer houdt in dat het gebruikte filament op zeer hoge temperaturen, tot soms wel 400° Celsius gesmolten wordt. Wanneer het ontwerp is geprint, zal het materiaal uitharden en ontstaat er een stevig onderdeel. Een voorbeeld van een hoge temperatuur 3D printer is de FDM printer. Deze printer print ontwerpen voornamelijk in kunststof. Er kunnen diverse soorten kunststoffen gebruikt worden, zoals harde of zachte kunststof. Maar om een gedetailleerd model te printen, zal het kunststof op een hoge temperatuur gesmolten moeten worden.
3D printen op hoge temperatuur met een 3D printer van FELIXprinters
Kunststof is een uitstekend filament om te 3D printen op hoge temperatuur. Hierdoor kunnen stevige kunststof ontwerpen geprint worden die voor allerlei toepassingen gebruikt kunnen worden. Dit kan gaan om onderdelen voor machines en apparatuur, maar ook kunststof gebruiksvoorwerpen als eindproduct of als onderdeel van een eindproduct. Een onderneming die op zoek is naar een 3D printer hoge temperatuur, kan terecht bij FELIXprinters. Als specialist van 3D printtechnologie, biedt FELIXprinters diverse soorten printers aan, waaronder de hoge temperatuur 3D printer. Deze printers blinken uit in kwaliteit en een hoog gebruiksgemak.
PETG 3D printer hoge temperatuur
Om te printen op hoge temperatuur kan er gekozen worden voor diverse soorten kunststof. Een van deze kunststoffen is PETG. Het materiaal PET is bekend van de bekende kunststof statiegeldflessen. PETG bestaat uit dezelfde soort kunststof, maar dan is er glycol aan toegevoegd. Met een PETG 3D printer hoge temperatuur kunnen objecten geprint worden die zeer sterk en toch flexibel zijn. Tevens is het materiaal waterafstotend en hoe hoger de verhitting bij PETG, des te meer glans het object krijgt. Doordat PETG door de hitte zeer vloeibaar wordt, kan er ook op relatief hoge snelheid worden geprint.
FELIX 3D printers
Range of Reliable & Accurate 3D Printers To Make Your Ideas Become Reality
ALL ABOUT FELIXPRINTERS AS FEATURED ON "DE BAROMETER"