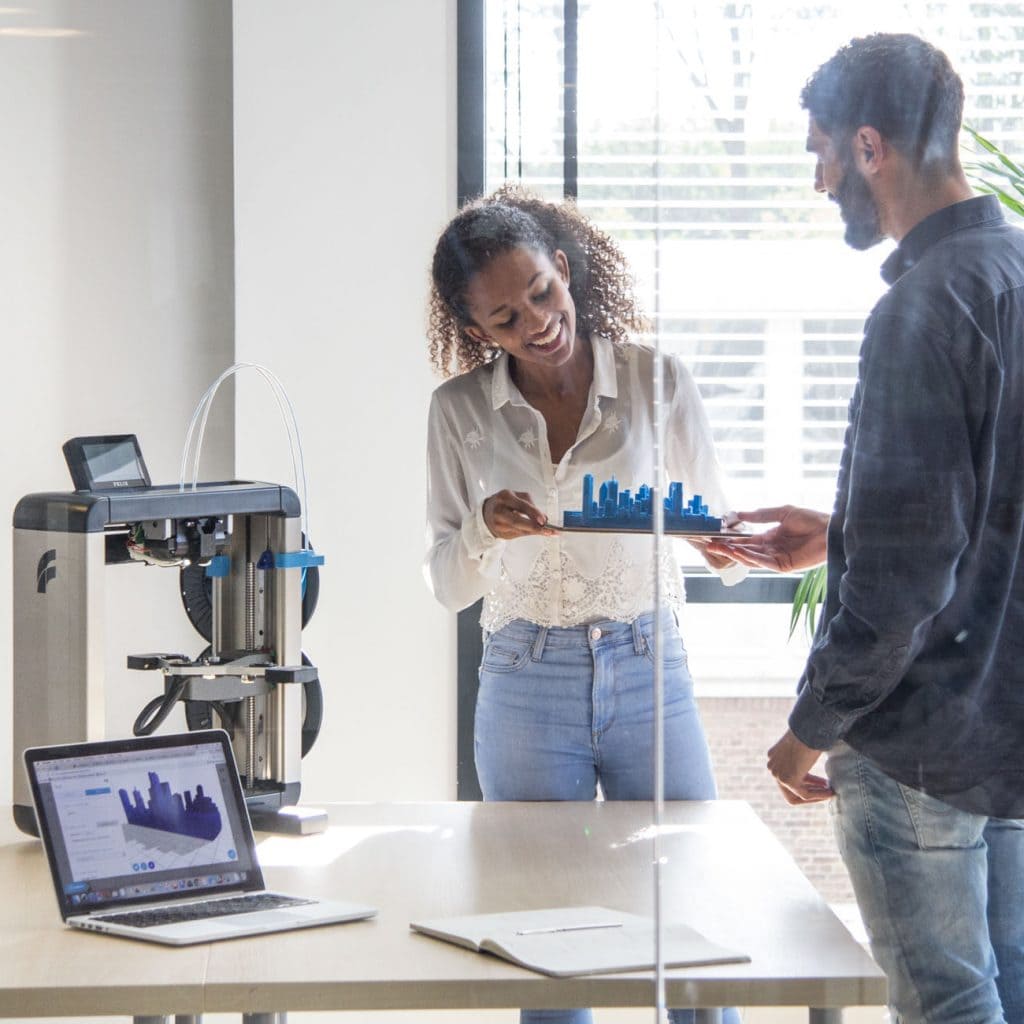 Groot volume printer
Veel printen met een groot volume printer
Ondernemingen die gebruik willen maken van 3D printtechnologie kunnen behoefte hebben aan een groot volume printer. Bij 3D printen gaat het ten eerste om de printkwaliteit. Maar ook de printkosten en printsnelheid spelen een rol. De printsnelheid kan nog wel eens problemen opleveren. Wanneer een object van hoge kwaliteit moet zijn of lastige vormen heeft, dan gaat kwaliteit voor snelheid. Toch wordt de 3D printtechnologie steeds meer ontwikkeld, zodat 3D printers steeds sneller worden. Het is tegenwoordig zelfs mogelijk om met een groot volume printer grote aantallen te printen tegen een acceptabele snelheid.
Groot printen met een groot volume 3D printer
Niet alle 3D printers zijn geschikt om objecten of onderdelen van groot formaat te printen. De grootte van de printer is zeker van belang op de grootte van het te printen onderdeel. Hoe groter de printer, des te grotere objecten er geprint kunnen worden en ook des te sneller de printer is. FELIXprinters heeft hiervoor een groot volume 3D printer, de FELIX Pro L en de FELIX Pro XL. Dit zijn extra grote 3D printers die bijna als een fabriek gezien mogen worden. Hiermee kunnen 3D prints gemaakt in groot formaat worden geprint en geschikt voor industriële of andere toepassingen.
Een 3D printer groot volume van FELIXprinters
Als een professionele 3D printer ontwikkelaar kunnen ondernemingen voor 3D printer oplossingen terecht bij FELIXprinters. De ene onderneming stelt andere eisen aan 3D printertechnologie dan de andere onderneming. Wanneer een ondernemer behoefte heeft aan een 3D printer groot volume, dan kan FELIXprinters de juiste oplossing leveren. Ook wanneer de ondernemer speciale eisen of wensen heeft, is het mogelijk om de printer op maat aan te passen. Grote aantallen in serieproductie, maar ook groot formaat onderdelen en objecten, zijn allemaal te printen met een 3D printer groot volume.
FELIX 3D printers
Range of Reliable & Accurate 3D Printers To Make Your Ideas Become Reality
ALL ABOUT FELIXPRINTERS AS FEATURED ON "DE BAROMETER"