3D Printing Adds Value to Business for Dutch Swimming School
August 1, 2018
FELIXprinters Launches its most Robust & Reliable Pro 3D Printer for Industrial Applications: The Pro 3
January 14, 2019
For 25 years Chris Easton worked as a production engineer, and his passion for making things has never died. However, it has been through a transition.
Five years ago, Chris' life changed. After contracting an eye infection, he was left partially sighted. A mark of the man, Chris chose to see this as a new beginning and to find new opportunities. One opportunity that came his way was the time to discover his talent for design when a friend offered him access to a 3D CAD software package, which he taught himself, and consequently found 3D printing. From there, Chris has only gone from strength to strength, building a business around his new passion and knowledge. Easton3D offers a 3D design and 3D printing service centre and operates as an independent reseller for FELIXprinters in the UK.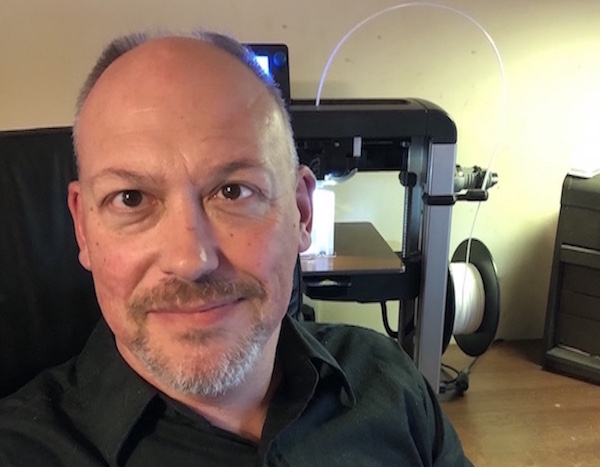 You selected a FELIX 3D printer as a user originally, can you tell us why that was?
Absolutely! When I decided to buy my first 3D printer I had done a lot of research into the technology itself and I knew what I wanted it for — I had found a way that I could carry on making things and with my background in production engineering, reliability and quality were high priorities. There was a lot of hype around about 3D printing at the time, and I wanted to see some of the different machines for myself and started looking around. I saw quite a few in action, I had recommendations for all the usual suspects but when I looked closer there were issues with them that I just wasn't prepared to deal with, usually in terms of reliability and failed prints.
Then I found FELIXprinters and I really liked the look of them. The company's history and ethos is built on quality machines, using only high quality components that print reliably. The features of the 3D printers and the print size are also a lot better than comparable machines, and the demonstrations I saw backed that up. Since investing in my first FELIX, I know that my initial instincts were right. I now have four of them running.
You later became a reseller in the UK for FELIXprinters — was this based on similar instincts?
Yes, it was. From using the FELIX 3 (my first machine), I built up a relationship with the team in the Netherlands — their service and response times were superb. Plus, their philosophy as a company is one of constant improvement and consistently offering new upgrades to the hardware and software — without having to invest in a new machine every time. FELIX is constantly evolving and they take their customers along with them. I met the guys in person in 2016 when I signed up to acquire my first Pro Series FELIXprinter and by 2017 I had become a reseller, because I totally believe in their vision and what they are trying to do with their 3D printers.
They might not get some of the coverage that the bigger players in this market get, but their machines really do deserve to. There are a lot of desktop 3D printing machinhttps://www.felixprinters.com/productses out there getting a lot of attention, but in reality many of them are just run of the mill machines that perform adequately, but with a lot of issues and downtime, and also quite a few of them run on closed ecosystems, which I really don't like.
FELIXprinters offer something different – the hardware is solid quality and the aftersales service is brilliant, plus the upgrades. It all adds up to something more.
Can you tell us more about the services you offer?
Easton3D provides a design and 3D printing service, we run four machines now:  we still have one original FELIX Tec 3, this is a standard workhorse that is still running reliably and consistently after almost five years, with just a couple of drive belts replaced due to wear and tear. We've got two FELIX Tec 3.1 series, one of which has been upgraded to a Tec 4, and a FELIX Pro 2 (upgraded from a Pro 1) as standard. All of the FELIX machines (except the Pro, which is the latest addition), have printed more than 37 km of filament with no issues. That's the reliability I was looking for — and it's not a common feature of most desktop 3D printers. I know this from my own experience and from talking to users of other machines.
The FELIX Pro, was, I think the first platform to introduce the retractable nozzle feature for smoother dual head printing, and they were also one of the first companies to introduce automated bed levelling (rather than just off-setting the firmware – which is still common). These might seem like small things – but they really make the running of the machines so much better and easier. The FELIX team understand this and make it happen.
What sort of applications do you provide as a 3D printing service?
Easton 3D provides a range of services, we do some industrial prototyping but we have developed a reputation and skill set for producing a lot of cosplay props and gaming weapon replicas. The demands for realism and working features are increasing – surface finish is really important, and the types of features I am talking about include triggers and moveable components of the props. This requires precision production, which we are able to meet with our 3D printing capabilities. It is so much easier than moulding techniques, but it does demand high quality prints that the FELIX printers are able to produce. It's definitely a win – win for us. 3D printing offers so many different opportunities, particularly as the materials are coming along and getting better and better.
What sort of materials do you run on your 3D printers?
It really depends on the application. FELIXprinters' machines do run an open materials approach, but in line with their hardware philosophy, they also develop and produce their own high quality filaments. It shows in the prints and how the machines perform — with consistent reliability. The thing is, if I want to use different materials, I can, but the FELIX materials as they increase in type and performance, are our first choice these days. We get a lot of very positive feedback on our prints, which is great, but it all comes down to the quality. Lots of people ask what machine we used, and what material. I'm more than happy to tell them.
Personally I think the quality that comes out of the FELIXprinters is 100% down to the quality that goes into the machine — it's the build quality that FELIX insists on and the quality of the components that they use. Yes, it pushes the price up a bit, but you get what you pay for. And when it comes to reliability and consistency — actually, you can't put a price on that, in my opinion.