The New
FELIX BIOprinter
High Performance, Customizable 3D BIOprinting
Appropriate for all types of bioprinting research and designed to extrude a wide range of material types and viscosities.
Request quote
2
Print heads and Open Source System gives you full control
Micron Layer height gives accurate dosing
Research institutions invested in development
20
13
Become Ambassador
The New FELIX BIOprinter
High Performance, Customizable 3D BIOprinting
Appropriate for all types of bioprinting research and designed to extrude a wide range of material types and viscosities.
Request quote
Print heads and Open Source System gives you full control
Micron Layer height gives accurate dosing
Research institutions invested in development
The FELIX BIOprinter raises the bar in terms of flexibility and adaptability, and is ideally suited for an array of research, scientific, and medical applications. The unique features of the system allow the BIOprinter to print with two different material types within the same print, improve material dosage and material flow, and print a wide range of viscosities and bio-inks.
Dual head printing
Retraction Mechanism
Syrinche & Print bed heathing / cooling
Automatic bed levelling
Print 2 different bio-inks simultaneously
Linear motor ensures accurate dosing
Between 2°C and 50°C
A perfectly calibrated print bed means trustworthy results
Syringe and bed plate heating / cooling
Print a wide range of viscosities
2
Print heads for dual material printing
FELIXprinters has nearly 10-years experience developing robust, cost-effective, accurate, and ground-breaking 3D printing solutions. All this experience has been used to develop the modular and easy to use BIOprinter.
Expertise cumulated to develop the optimum userfriendly design
UV Light Effectively and gently cure printed parts
Open System
No restriction to type of labware or equipment
Upgradable Design, did you know that all FELIXprinters are upgradable?
We have designed our machines to be future-proof.  You can upgrade quickly and easily when new advancements and technologies are launched. Guarantee a lifetime of use from your FELIX BIOprinter, and eliminate the need to invest in an entirely new printer to stay up to date to newest developments.
The UV curing module allows you to print with UV curable viscous materials. The high-powered UV light module enables quick curing of a layer to harden it to the desired consistency.
Open System, the FELIX BIOprinter consists of a flexible & adaptable ecosystem to ensure it can meet the needs of a wide range of research applications without generating unnecessary costs. The FELIX BIOprinter has been designed to use any standard 5 ml syringe, meaning it is not restricted to expensive branded products that drive up operating costs. Similarly, standardised petri-dishes and culture plates are easily accommodated ensuring no limitations on type of instruments and materials to be used.  
Your support in bioprinting
Discover the range of bioinks suited for specific medical and research needs.
XPECT-INX® was developed by doctors at Ghent University in Belgium.
At XPECT-INX®, we are focusing on the commercialisation of materials and bioinks for 3D bioprinting or biofabrication by utilizing decades of academic experience in the field of polymers and biomaterials.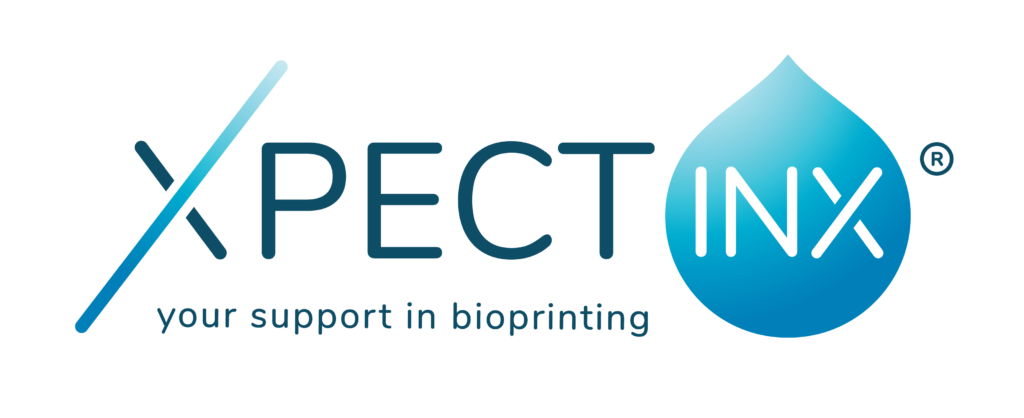 By offering a unique material portfolio based on our patented CURADUO® and CURASOL® technologies, the applications become nearly limitless. Our bio-inks can be applied for various tissue types with applications in regenerative medicine and drug and cosmetics screening. Additionally, by offering a bio-ink portfolio suitable for multiple printing technologies, attainable resolutions range from hundreds of nanometres to hundreds of micrometres. These technologies include:
Discover our unique range of material formulations for bio fabrication and additive manufacturing!
To facilitate ease of use, the BIOprinter uses industry standard and market-leading slicing software. This allows users the ability to take advantage of the versatility of the BIOprinter, and to have total freedom to explore the possibilities of specific applications.
Uses standard slicing software – Simplify 3D, the best slicing software available on the market right now. For a fully in-control, fully customizable user experience.
Effectively and gently cure printed parts Wireless connectivity – synchronize files across devices
We recommend and have preconfigured Simplify3D, the best slicing software available on the market. Several presets are programmed to get you started quickly.  Simply adapt your project designs to suit your needs.
Touchscreen with user friendly interface and embedded print server, allows remote print file monitoring, multi-user environment and print-file management.
All information at your fingertips, duration of print, Estimated time of completion, calibration, tutorials
Unique nozzle probing system, enables automated bed leveling and calibration of the nozzles. This gives a perfect first layer, saving you valuable research time.
Camera module let's you monitor your prints remotely from your smartphone or PC.
Ultimate research freedom
The novel dual head dispensing unit allows you to use almost any viscous material accurately. You have ultimate design freedom with the flexible dispensing unit.
Dispensing
Dispensing on the FELIX BIOprinter is performed with a linear motor. This allows accurate dosing and retraction capabilities. These are two crucial criteria for reliable and precise end results.
Material Types

The BIOprinter dispenses a wide range of viscous materials up to a viscosity of 64 000 Centipoise. You have the ability to extrude materials and bio-inks that range in consistency from liquids to pastes.
Open Source System

The printer is designed to use standardized 5ml Luer lock syringes. Benefits of this are:
This volume is large enough to facilitate research needs
Accurate
Low cost
Easy to obtain
Sterile
Development and accreditation
Highly engineered system developed in collaboration with Technical University of Denmark to deliver high quality output for a wide range of biological applications. The FELIX BIO printer is developed in association with TRAINING4CRM and the European Commission
Participating Researchers
This project has been funded by the European Union Horizon 2020 Programme (H2020-MSCA-ITN-2016) under the Marie Skłodowska-Curie Innovative Training Network and Grant Agreement No. 722779
02
Designed to use standard 5 ml syringes / petri dishes / culture plates
03
Powerful FELIX touchscreen interface, adaptable to multi-machine farm operations
04
Syringe cooling / heating
05
Print bed cooling / heating
06
Dual syringe system, with fast and easy change-over
07
Easy Syringe positioning
08
Automatic bed levelling
09
Virtually Silent operation
Layer Resolution: to 50 microns
Build Plate: Aluminium sandwich plate with steel flexplate.
Print head: Dual syringe operation
Syringe Specs: 5 ml syringe(s)
Build Speed/s: Recommended build speed is 20 mm/s. Speed depends on material viscosity.
Typical print accuracy: ± 0.05 mm for sizes below 20 mm
Syringe Min/Max print temperatures: 0-50 ˚C
Syringe heat up time / cooling times: 10 seconds
XYZ resolution: XY, 1.6 microns, Z: 0.15 micron
Dimensions & Weight: 430 x 390 x 550 mm, 11.5kg
Build Volume: XYZ = 130 x 210 x 130 mm
Extrusion width: greater than 0.1mm, depending on nozzle size
Software: Simplify3D (Included in BIOprinter purchase) , Repetier-Host for FELIXprinters, freely downloadable (Open source)
Supported OS: Windows 7 and upwards, Mac OS X, Linux (repetier-host)
Supported file types:  STL, Obj, 3MF
Printer communication (standard): USB serial, Standalone via micro SD card (included)
Printer communication (Touchscreen): USB stick, WIFI, Wired Ethernet
Operating ambient temperatures:  15 to 32 °C / 60 – 90 °F
Storage temperatures: 0 to 32 °C
Input: 100 – 240V, 4A, 50-60Hz, 221 W max.
Output: 24 V DC, 9.2 A
We want you to succeed
Contact us for support or specific needs, it is our aim to help you progress in your field
Download more information / Get quote?