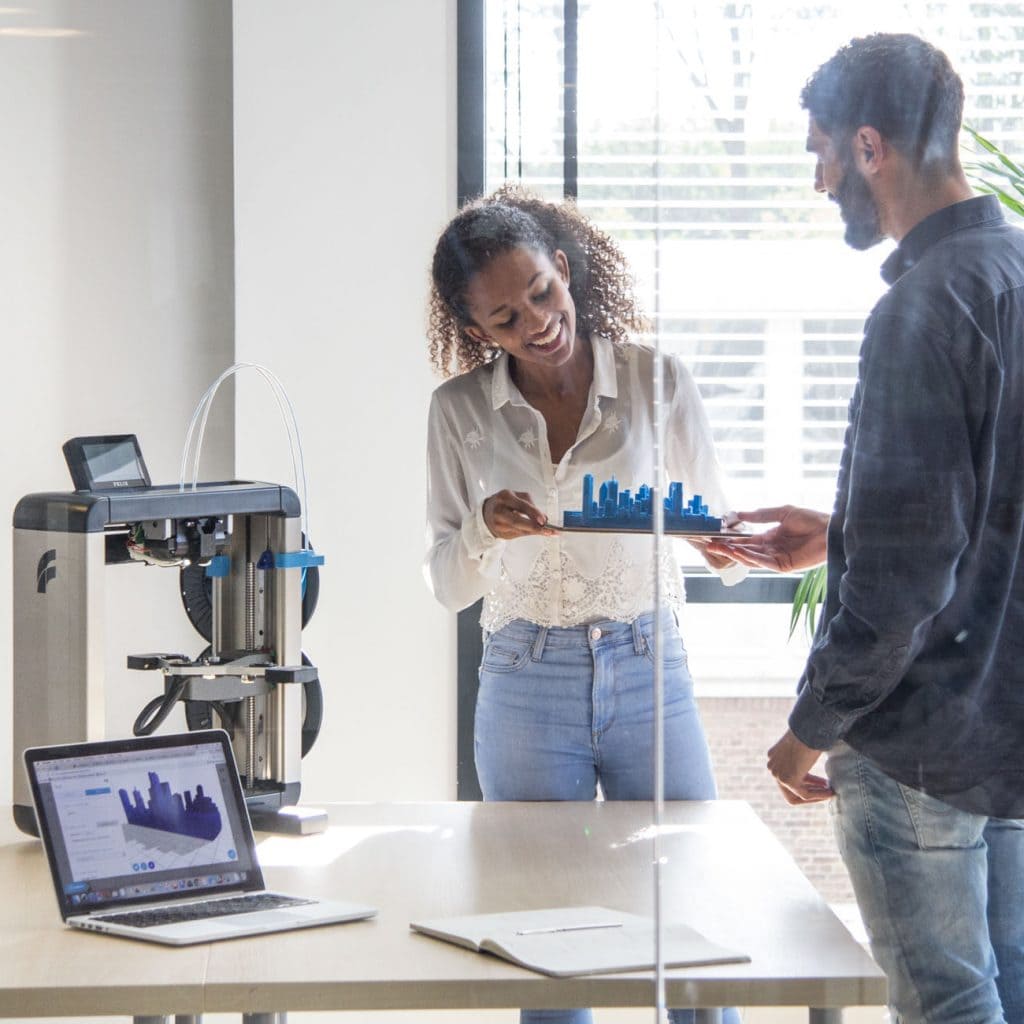 FDM printer
Secuur printen met een FDM printer
De verschillende soorten 3D printers kunnen gebruikmaken van diverse technieken om hun te printen model op te bouwen. Het gebruikte filament speelt hierbij een belangrijk rol. Zo is er de FDM printer. FDM staat voor Fused Deposition Modeling en is een techniek waar het object laag voor laag wordt opgebouwd en aan elkaar wordt gesmolten. Het gebruikte filament voor een FDM printer is meestal een kunststofsoort. In de spuitmond wordt het kunststof gesmolten en vloeibaar. Volgens een 3D ontwerp wordt het vloeibare materiaal laagje voor laagje op een platform gespoten. Zowel het platform als de spuitmond kunnen gericht bewogen worden om de print de juist vorm te geven. Nadat de laagjes zijn aangebracht, zal het kunststof uitharden en ontstaat er het gewenste model.
Toepassingen met een FDM 3D printer
De snelheid van een FDM 3D printer is niet zo hoog. Dit komt omdat het laag voor laag opbouwen van een ontwerp veel tijd kost. Voor massaproductie is een FDM 3D printer nog niet geschikt, al zal dit ongetwijfeld in de toekomst veranderen als de FDM printer nog beter ontwikkeld wordt. Kleine serieproductie is wel mogelijk. Een FDM 3D printer is bij uitstek geschikt voor het printen van een prototype. Bedrijven, maar ook particulieren die een idee of uitvinding hebben gedaan, zullen moeite hebben om daadwerkelijk een prototype van hun ontwerp te laten produceren. Dit kost erg veel geld. Met een FDM printer kan dit een stuk goedkoper en sneller.
Een FDM 3D printer kopen bij FELIXprinters
Wanneer een bedrijf kleine productieaantallen wil produceren of volop innoveert en hiervoor een prototype nodig heeft, dan is de FDM printer een zeer geschikt hulpmiddel. FELIXprinters ontwerpt en verkoopt FDM 3D printers die bovendien aangepast kunnen worden aan de wensen van de klant. De FDM printer is gebruiksvriendelijk en gemakkelijk te hanteren. Met een FDM 3D printer kopen bij FELIXprinters, mogen klanten hoge kwaliteit en goede begeleiding verwachten.
FELIX 3D printers
Range of Reliable & Accurate 3D Printers To Make Your Ideas Become Reality
ALL ABOUT FELIXPRINTERS AS FEATURED ON "DE BAROMETER"