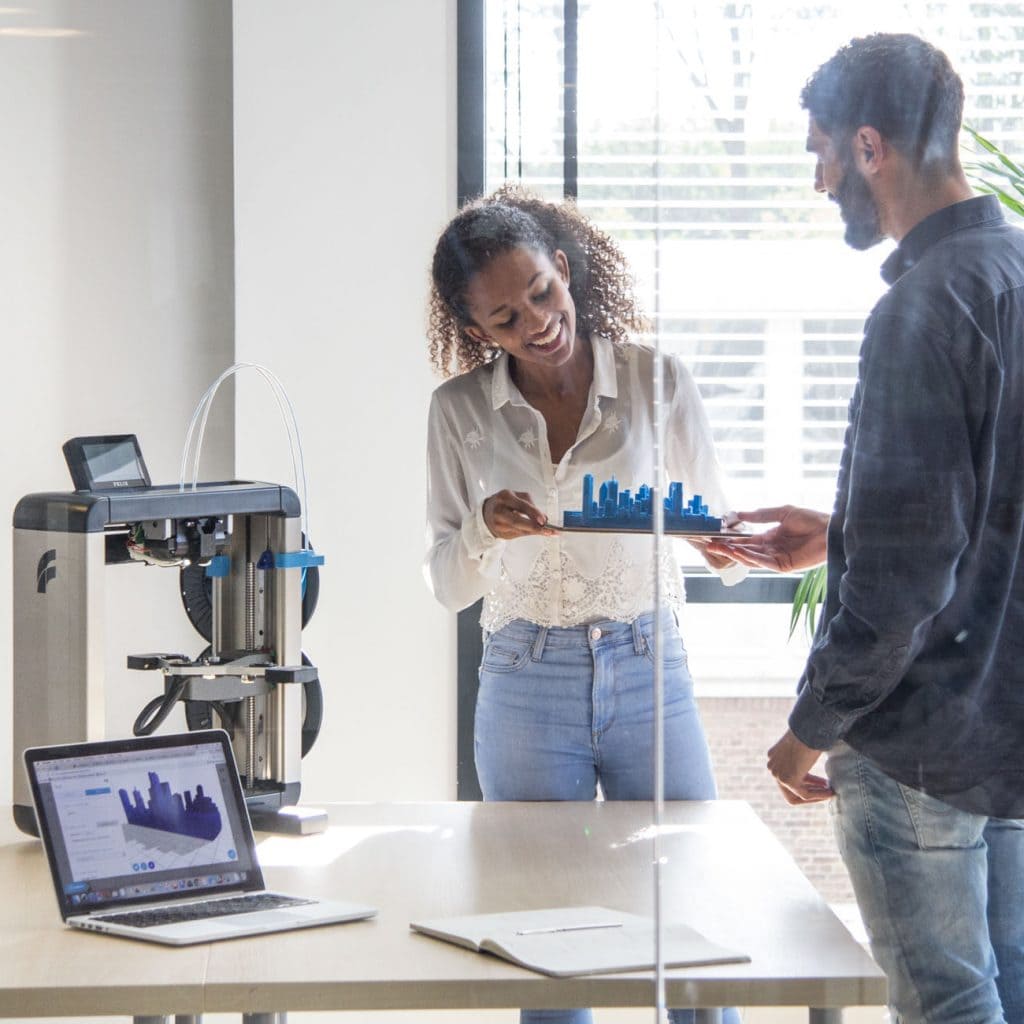 Eten 3D printen
Eten 3D printen voor een verbeterde eetbeleving
Voor mensen die lijden aan dysfagie (moeite met slikken) kan eten 3D printen de eetbeleving aanzienlijk verbeteren. Waar de patiënten zich doorgaans voeden met gepureerde maaltijden, kan met een 3D-printer voedsel worden afgedrukt in een textuur die voor deze mensen door te slikken is. Door te kiezen voor een 3D-print van voedsel, kan de vorm van de oorspronkelijke etenswaren worden behouden, waardoor het eten er vele malen aantrekkelijker uitziet dan de gepureerde substantie die zij normaliter voorgeschoteld krijgen om toch de benodigde voedingsstoffen binnen te krijgen. Ook kunnen door het gebruik van een 3D-printer voedingsstoffen worden toegevoegd aan het voedsel. Voor mensen die om medische redenen minder kunnen eten dan noodzakelijk is, is dit een goede manier om het lichaam van de vereiste vitamines en mineralen te voorzien.
Een 3D-printer om eten te printen
Een 3D-printer kan in vele beroepsgroepen worden ingezet. Denk onder andere aan de auto-industrie, de bouw, het onderwijs en aan de tandheelkunde. In de voedselindustrie kan dit type printer worden gebruikt om voedsel aantrekkelijker te maken door te experimenteren met vormen, smaken en texturen, maar ook kunnen restjes die normaal gesproken zouden worden weggegooid worden verwerkt in geprinte etenswaren. Als op grote schaal een 3D-printer om eten te printen op deze manier zou worden ingezet, dan zou dat veel betekenen voor het tegengaan van voedselverspilling. In onze webshop kun je 3D-printers bestellen die geschikt zijn het printen van voedsel. Als je een maatwerkproduct wenst die geheel tegemoetkomt aan jouw specifieke wensen, dan kun je ons telefonisch benaderen of een e-mail sturen.
Het 3D printen van eten met onze FELIX printers
Als je het 3D printen van eten wilt toepassen binnen jouw vakgebied, dan kun je je printer online bestellen in onze webshop. Onze printers zijn uitbreidbaar, waardoor je door middel van upgrades toch gebruik kunt maken van nieuwere technologieën. Je hoeft dan niet je gehele printer te vervangen om te voorkomen dat je op technologisch gebied achter de feiten aanloopt en dat is wel zo prettig, aangezien de ontwikkelingen in een hoog tempo plaatsvinden. Zowel de handleidingen van de apparatuur als de benodigde software is te downloaden op de website van FELIXprinters.
FELIX 3D printers
Range of Reliable & Accurate 3D Printers To Make Your Ideas Become Reality
ALL ABOUT FELIXPRINTERS AS FEATURED ON "DE BAROMETER"