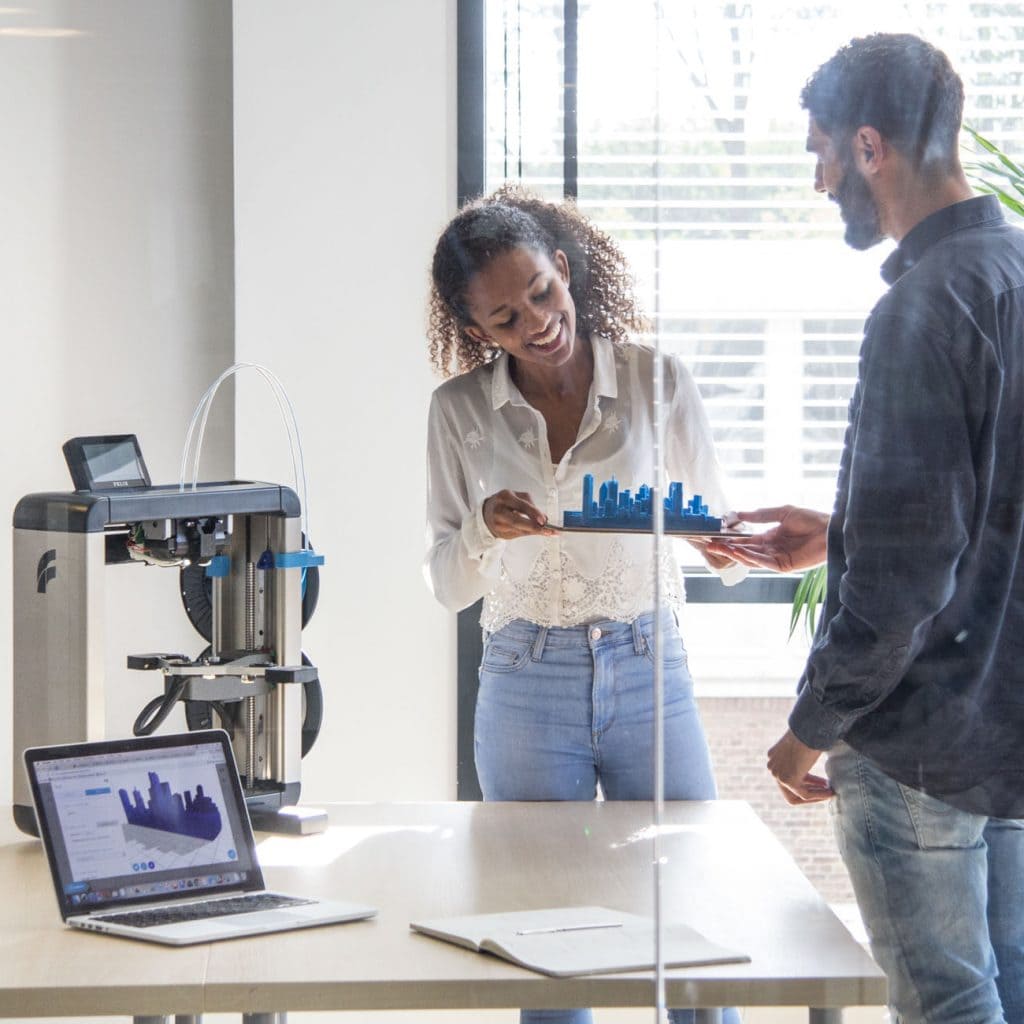 Chocolade 3D printer
Chocolade met een 3D-printer afdrukken
Chocolade wordt veelvuldig gebruikt in nagerechten en als topping voor banket en hoe smakelijk chocolade ook is, het oog wil ook wat. Daarom besteden banketbakkers doorgaans veel tijd en moeite om mooie creaties te maken van chocolade. Wanneer klanten een gepersonaliseerde taart willen, met daarop een tekst van chocolade in sierlijke letters of een ingewikkelde figuur of motief, dan kost deze extra voor de klant veel tijd en moeite. Er is immers geen ruimte beschikbaar voor het maken van fouten, omdat dit ten koste gaat van het gehele ontwerp. In dergelijke situaties is een chocolade 3D-printer een uitkomst. Een 3D-printer komt nog meer tot zijn recht als je binnen je chocolatier driedimensionale portretten of beelden wilt kunnen maken om je klanten een heel persoonlijk product te kunnen leveren.
3D chocolade uit de printer als voordeliger alternatief voor handgemaakte chocolade
Het met de hand vervaardigen van chocoladekunststukken is een ontzettend nauwkeurig karwei en kost ontzettend veel tijd. Als je binnen je bedrijf veel te maken hebt met gepersonaliseerde chocolade-artikelen, dan kun je met driedimensionale chocolade uit de printer op de langere termijn veel kosten besparen. De printer is in staat om uiterst ingewikkelde ontwerpen te printen en de arbeidsuren die in een handgemaakt chocoladeportret zitten, kunnen je door dit apparaat worden bespaard.
Een chocolade 3D-printer kopen bij FELIXprinters
Je kunt in ons assortiment uitbreidbare 3D-printers vinden die geschikt zijn voor het printen van diverse materialen, zo ook voor etenswaren. Als je in een banketbakkerij of chocolatier werkt en je wilt een chocolade 3D-printer kopen om veel tijd te besparen bij het voldoen aan de wensen van je klanten, dan kun je bij FELIXprinters terecht. Wanneer je contact opneemt met onze servicedesk, kunnen we al je wensen en vereisten uitgebreid doornemen en overleggen voor welke toepassingen de printer die jij wilt hebben geschikt moet zijn. Door gebruik te maken van onze technische expertise en ervaring op het gebied van printtechnieken, kun je jouw klanten een geweldig eindproduct bieden.
FELIX 3D printers
Range of Reliable & Accurate 3D Printers To Make Your Ideas Become Reality
ALL ABOUT FELIXPRINTERS AS FEATURED ON "DE BAROMETER"