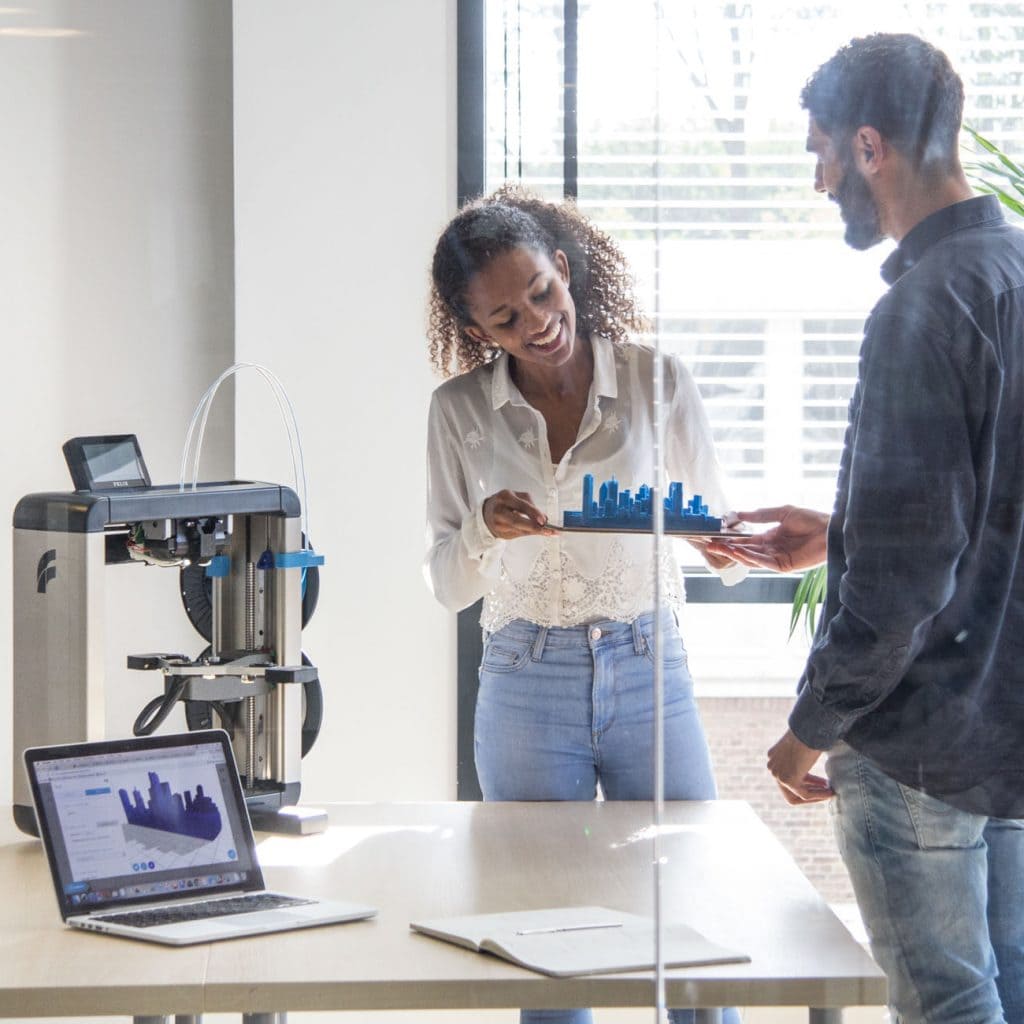 Bioprinter
De bioprinter, een innovatie in de biotechnologie
De ontwikkelingen in de biotechnologie gaan razendsnel. In de medische wereld is men erg ver met bijvoorbeeld het zeer natuurgetrouw namaken van organen die dan in het menselijk lichaam geïmplanteerd worden. De 3D bioprinter is hier een hulpmiddel bij uitstek bij. Hoewel de 3D printtechnologie nog relatief nieuw is en in eerste instantie niet specifiek voor de biotechnologie is uitgevonden, worden er goede resultaten behaald. Met cellen en biomaterialen kan een bioprinter weefselachtige structuren creëren en de exacte vorm van een orgaan imiteren. Het gebruik van een bioprinter in de biotechnologie is niet alleen voor toepassingen in de medische wereld. Ook de voedselindustrie kan grote voordelen behalen met een bioprinter.
Een bioprinter kopen bij FELIXprinters
Gespecialiseerd in 3D printertechnologie is FELIXprinters dé aangewezen leverancier van diverse soorten 3D printers. FELIXprinters richt zich met haar 3D printers op enkele specifieke branches, zoals de industrie, het onderwijs en de ontwerpbranche. In deze branches kan 3D printtechnologie voor grote veranderingen zorgen en we staan nog maar aan het begin. De bioprinter is één van de meeste innovatieve 3D printers uit het assortiment van FELIXprinters. Wilt u een bioprinter kopen, dan zijn er zelfs mogelijkheden om de printer dusdanig op maat aan te passen, zodat deze optimaal in uw organisatie kan presteren. FELIXprinters is tevens één van de partners in de ontwikkeling van bioprinters die twee materialen tegelijk kan printen voor gebruik in medische wereld.
Innovatief bioprinten met FELIXprinters
De biotechnologie staat voor grote innovatieve veranderingen en de bioprinten zal hier zeker een belangrijke rol in spelen. Met bioprinten is het mogelijk om volledig gesteriliseerd te printen. De bioprinter is voorzien van twee printkoppen, zodat er diverse materialen gebruikt kunnen worden. Uiteraard houdt FELIXprinters ook rekening met een goede en gebruiksvriendelijke bediening van de bioprinter. De bioprinter is voorzien van een touchscreen, zodat de printer met vingertoetsen te bedienen is. FELIXprinters kan bedrijven die werkzaam zijn in de biotechnologie adviseren over het gebruik van 3D printtechnologie.
FELIX 3D printers
Range of Reliable & Accurate 3D Printers To Make Your Ideas Become Reality
ALL ABOUT FELIXPRINTERS AS FEATURED ON "DE BAROMETER"