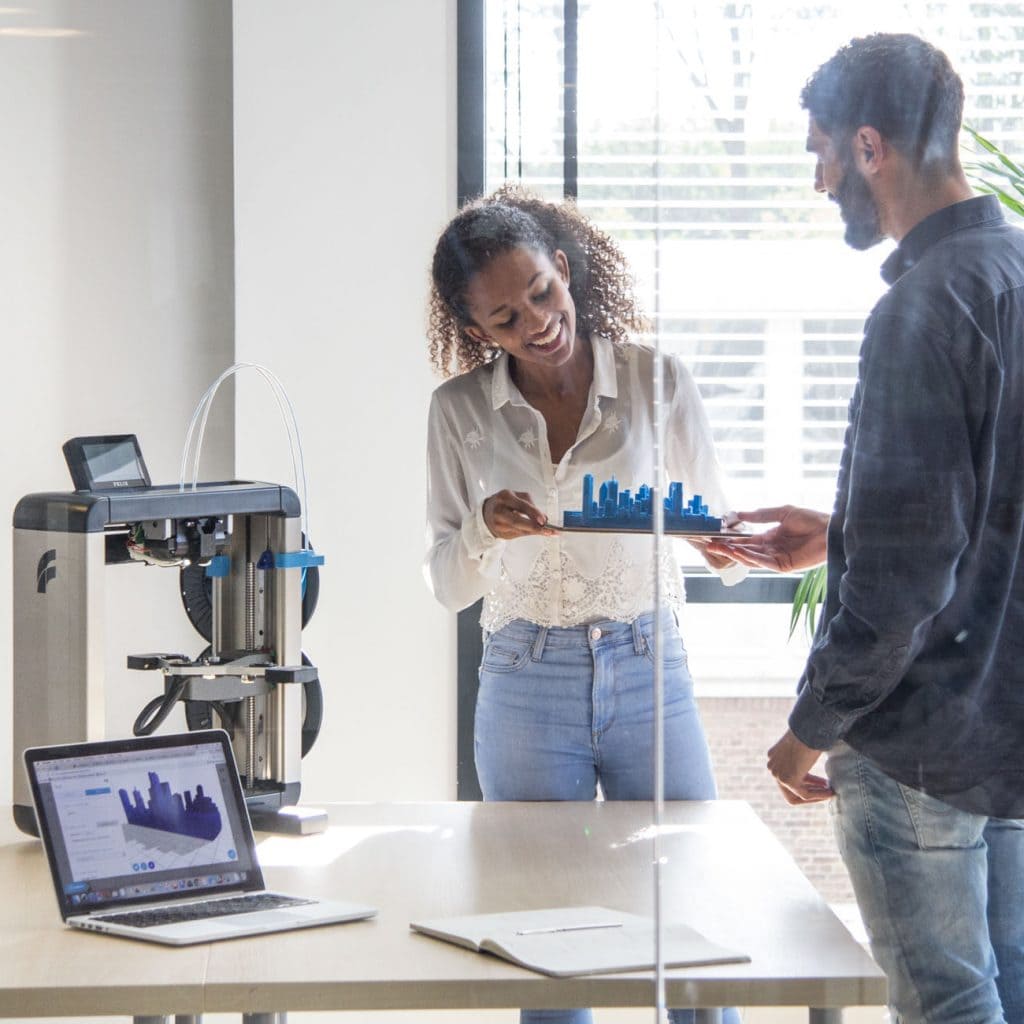 Automotive 3d printer
Met een automotive 3D-printer profiteer je van meerdere voordelen
In de automotive sector vallen vele voordelen te behalen door het gebruik van een 3D-printer. Denk aan zaken als prototyping, het hebben van kleinere voorraden en het on demand kunnen produceren van de onderdelen die je nodig hebt. Bestaande auto-onderdelen kunnen tot in perfectie worden nagebootst en dat kan met name een groot voordeel zijn bij zeer exclusieve auto's, waarvan er slechts enkele zijn geproduceerd. De onderdelen voor deze wagens zijn doorgaans niet eenvoudig te verkrijgen en als het al lukt, dan betaal je vaak de hoofdprijs. Ook hobbyisten die een oldtimer willen restaureren kunnen het benodigde onderdeel op basis van een driedimensionale scan door de printer laten afdrukken.
Het gebruik van een 3D-printer in de automotive sector
Autofabrikanten besparen kostbare tijd én geld door 3D printen in te zetten bij het ontwerpen en testen van nieuwe auto-onderdelen. Het geprinte prototype kan worden ingebouwd in de auto om deze zo uitvoerig te kunnen testen. Mochten er nog aanpassingen in het onderdeel nodig zijn, dan kun je deze vrij eenvoudig doorvoeren. Zo kun je net zo lang doorgaan met ontwerpen en testen tot het prototype in alle opzichten doet wat er van het betreffende onderdeel verwacht mag worden. Pas dan hoef je over te gaan tot productie op grotere schaal.
Een 3D-printer voor de automotive kopen
Als de voordelen van het 3D printen je aanspreken, dan kun je ervoor kiezen om een 3D-printer voor de automotive te kopen bij FELIXprinters. Neem de tijd om ons assortiment te bekijken en vergeet ook niet om de ervaringen van klanten die je zijn voorgegaan door te lezen om een indruk te krijgen van wat je kunt verwachten van onze printers en onze service. Als je bepaalde wensen hebt waaraan onze kant-en-klare printers niet voldoen, dan kun je met onze medewerkers bespreken wat je wél verwacht van een 3D-printer. Als alle wensen en verwachtingen op tafel liggen, dan kunnen wij een maatwerkprinter assembleren die jou in al je printbehoeften kan voorzien.
FELIX 3D printers
Range of Reliable & Accurate 3D Printers To Make Your Ideas Become Reality
ALL ABOUT FELIXPRINTERS AS FEATURED ON "DE BAROMETER"