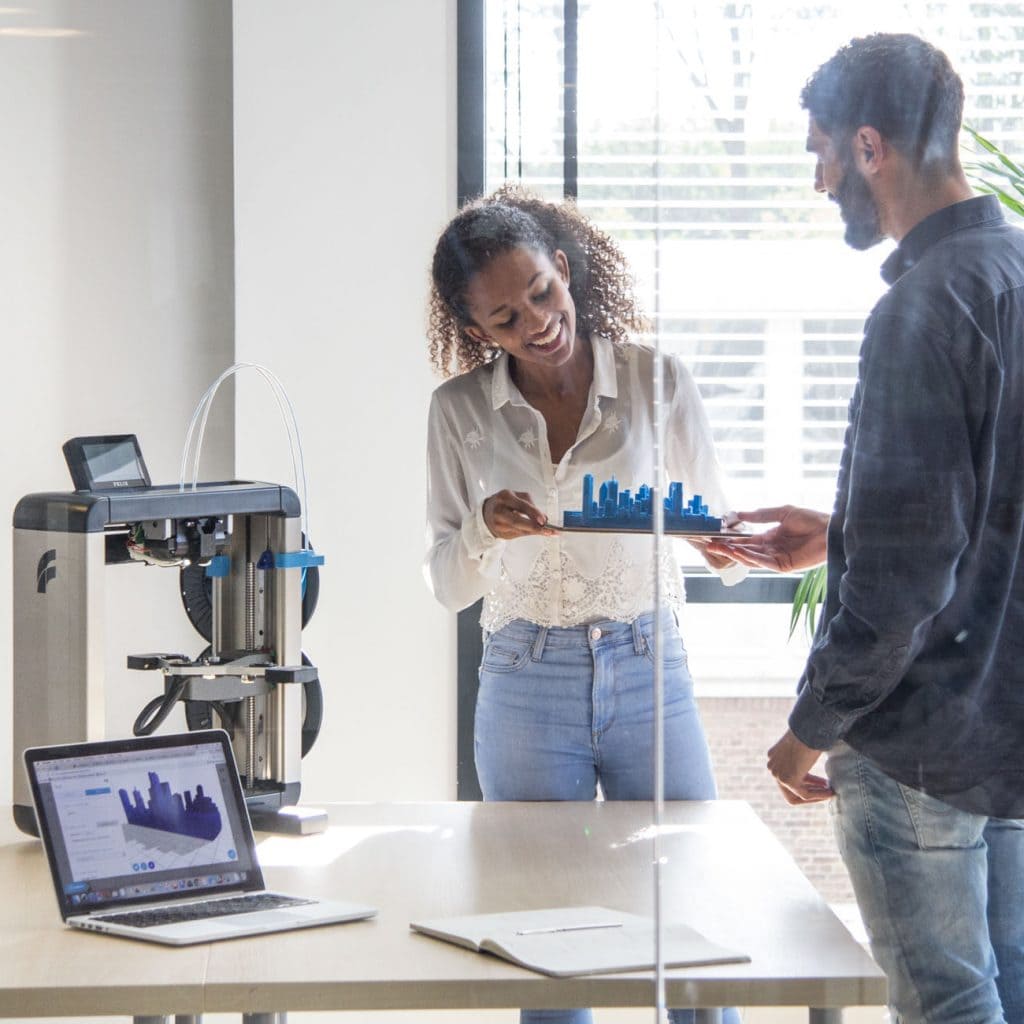 3d voedselprinter
Nieuwe culinaire mogelijkheden met een 3D voedselprinter
De 3D voedselprinter behoort tot één van de meest innoverende voedselverwerkingstechnologieën. De 3D voedselprinter zal het antwoord zijn in menig restaurant, waar koks hun gerechten op zo fraai mogelijke wijze willen presenteren. Bepaalde gerechten met de hand goed opmaken kan lastig zijn. Helemaal voor sterrenrestaurants is dit een uitdaging, want de presentatie van gerechten is één van de specialiteiten waar zij hun sterren aan te danken hebben. Niet alleen voor restaurants zal de 3D voedselprinter een uitkomst zijn. Ook in de voedselbranche waar voedsel in massaproductie wordt bereid, kan de voedselprinter uitkomst bieden.
Met een 3D printer voedsel printen
Koks en productiemedewerkers die met een 3D printer voedsel printen, worden ook nog eens ontwerpers. De meest bizarre vormen die normaal nooit mogelijk zijn, zijn met een 3D voedselprinter ineens wel mogelijk. Ook mensen die om medische redenen moeite hebben om vast voedsel binnen te krijgen, kunnen van een 3D printer profiteren. Deze mensen moeten hun eten prakken en een bord met geprakt voedsel ziet er altijd minder smakelijk uit. Het kan er zelfs toe leiden dat deze mensen nog minder eten. Met een 3D voedselprinter kan geprakt voedsel als puree in fraaie en aantrekkelijke vormen geprint worden. Zo wordt ook een afzichtelijk bordje geprakt voedsel omgetoverd tot een culinair aantrekkelijk gerecht.
3D printen voedsel met een voedselprinter van FELIXprinters
Als leverancier van diverse 3D printers, levert FELIXprinters ook voedselprinters voor het 3D printen voedsel. De mogelijkheden zijn ongekend en vele sectoren in de voedselverwerkingsindustrie zullen hier baat bij hebben. Daarnaast houdt FELIXprinters zich bezig met onderzoeken om de technieken en mogelijkheden van voedselprinters te verbeteren. Omdat het meeste voedsel als puree uit de printer komt, onderzoekt FELIXprinters momenteel de mogelijkheid om voedsel in pastavorm te printen. De voedselprinter zal in de nabije toekomst steeds meer de norm worden in de voedselverwerkingsindustrie en FELIXprinters draagt hier graag een steentje aan bij.
FELIX 3D printers
Range of Reliable & Accurate 3D Printers To Make Your Ideas Become Reality
ALL ABOUT FELIXPRINTERS AS FEATURED ON "DE BAROMETER"