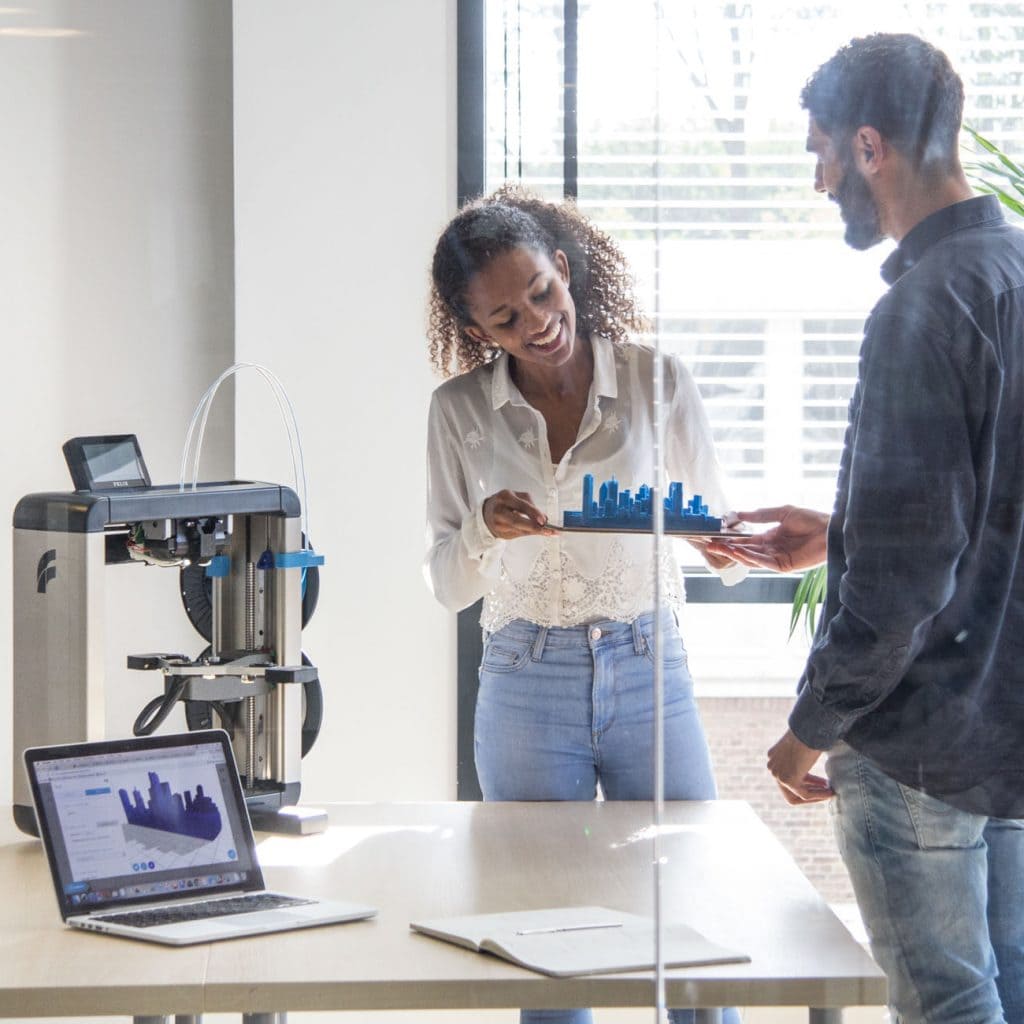 3d printer ziekenhuis
3D-printer in het ziekenhuis
Een 3D-printer in het ziekenhuis kan worden ingezet in diverse situaties. Onder andere voor het reconstrueren van harde materialen als botten en gewrichten is een 3D-printer een ideale oplossing. Als een patiënt een beschadigd kniegewricht heeft, dan zou je het goede gewricht van de andere knie kunnen gebruiken als voorbeeld. Door deze scan te spiegelen, heb je een aardig beeld van hoe het beschadigde gewricht eruitzag. Met de technologie die de laatste jaren een enorme sprint lijkt te nemen, is het tegenwoordig zelfs al mogelijk om met een bioprinter weefselstructuren te printen, zodat de precieze vormen van organen kunnen worden nagebootst. Er zijn op het huidige moment al vele mogelijkheden en wie weet wat de toekomst nog gaat brengen op het gebied van bioprinten.
Een ziekenhuis 3D-printer voor protheses
Het maken van een prothese met een 3D-printer kent meerdere voordelen ten opzichte van het vervaardigen van protheses op de traditionele manier. Door een digitale scan te maken van een lichaamsdeel en de driedimensionale afdruk door een door software aangestuurde printer te laten creëren, verzeker je jezelf ervan dat de prothese perfect past bij de anatomie van de persoon die de prothese zal gaan dragen. Door de perfecte pasvorm zal de kunstarm of het kunstbeen soepeler zitten en minder aan slijtage onderhevig zijn. Ook hoeft er, als je deze methode verkiest, geen gipsafdruk te worden gemaakt. De arts kan nu aan de hand van een scan vooraf bepalen op welke manier een prothese geplaatst moet worden. Dit hoeft dan niet op het moment van het plaatsen van de prothese op de patiënt nog worden onderzocht.
Voordelen van 3D printen in het ziekenhuis
De voordelen van 3D printen in het ziekenhuis omvatten gemak, kosten, tijd en inzicht. Doordat de ontwikkelingen op het gebied van 3D printen in een razend tempo vooruitgaan, ontstaat de kans dat je al snel met verouderde apparatuur werkt die de nieuwste technieken niet kan toepassen. Wanneer je echter kiest voor een 3D-printer van FELIXprinters, dan kies je voor een uitbreidbare printer. Je hoeft je printer dus niet compleet te vervangen door een nieuwer exemplaar, maar je kunt simpelweg gebruikmaken van onze upgrades.
FELIX 3D printers
Range of Reliable & Accurate 3D Printers To Make Your Ideas Become Reality
ALL ABOUT FELIXPRINTERS AS FEATURED ON "DE BAROMETER"