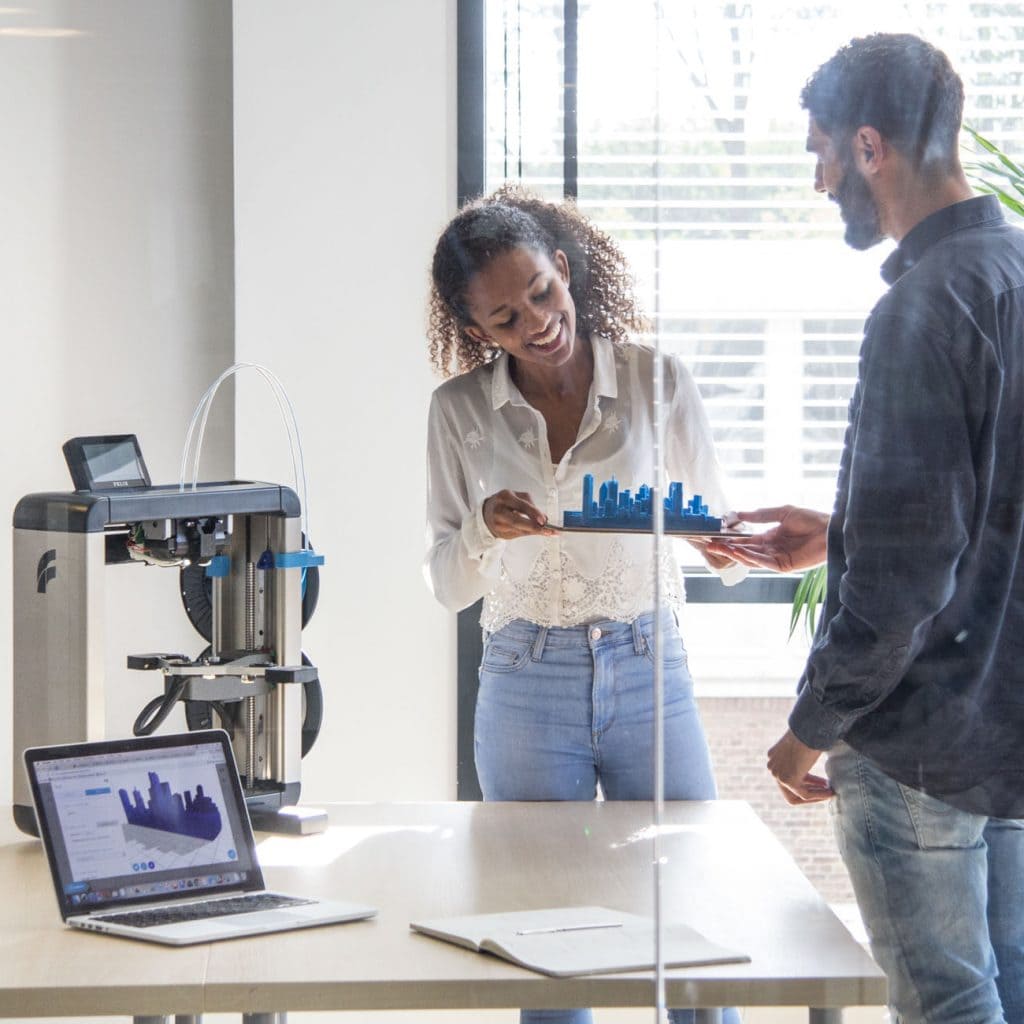 3d printer tandtechniek
Een 3D-printer in de tandtechniek wordt steeds populairder
Het gebruik van een 3D-printer binnen de tandtechniek is met een ware opmars bezig. Waar voorheen 3D-printers vooral werden gezien als apparatuur dat door pioniers wordt gebruikt, wordt dit type printer tegenwoordig veelvuldig in diverse vakgebieden ingezet. Denk bijvoorbeeld aan de mode-industrie en de voedselindustrie, maar ook aan de tandtechnische industrie. Vrijwel elk object binnen de tandtechniek kan middels een 3D-printer worden opgebouwd en het digitale proces maakt dat de pasvorm van protheses en implantaten perfect zal zijn. Dit in tegenstelling tot het handmatig maken van de gewenste vorm van een implantaat, waarbij materialen tijdens het maken van het object ietwat kunnen uitzetten of juist inkrimpen. Het kiezen voor deze digitale techniek bespaart veel tijd en op langere termijn eveneens veel kosten.
Tandtechniek met een 3D-printer
De oudste methode van 3D printen is de zogenaamde stereolithografie en werd in 1984 voor het eerst gebruikt door Charles W. Hull. Door stereolithografie wordt er een gewenste vorm gecreëerd door middel van een laserstraal die laag voor laag de oppervlakte van kunsthars verhardt. Stereolithografie (SLA) kan worden gebruikt om bijvoorbeeld een gebitsmodel te maken. Een andere, wat jongere, printtechniek is Digital Light Processing (DLP). Deze methode is vergelijkbaar met SLA, maar waar er bij SLA gebruik wordt gemaakt van galvanometers is er bij DLP sprake van een digitaal projectorscherm. DLP is niet per definitie beter dan SLA, maar afhankelijk van je doeleinden kan de ene methode wel een betere keuze zijn dan de andere. In de tandheelkunde is DLP-printer de betere optie van de twee, omdat dit type printer met zijn kleine bouwplaat zeer geschikt is voor het vervaardigen van kleine, zeer gedetailleerde objecten.
Een 3D-printer voor tandtechniek kopen bij FELIXprinters
Op onze website kun je je 3D-printer voor tandtechniek kopen, zodat je met uiterste nauwkeurigheid objecten als kronen en bruggen voor je patiënten kunt printen. Mocht je niet zeker weten welke printer het meest geschikt is in jouw situatie? Neem dan gerust contact op met een medewerker. We zullen samen je wensen en vereisten doornemen en komen tot de 3D-printer die hieraan kan voldoen. Je kunt ons tijdens kantooruren telefonisch bereiken of je kunt ons een e-mail sturen waarin je je vraag stelt.
FELIX 3D printers
Range of Reliable & Accurate 3D Printers To Make Your Ideas Become Reality
ALL ABOUT FELIXPRINTERS AS FEATURED ON "DE BAROMETER"