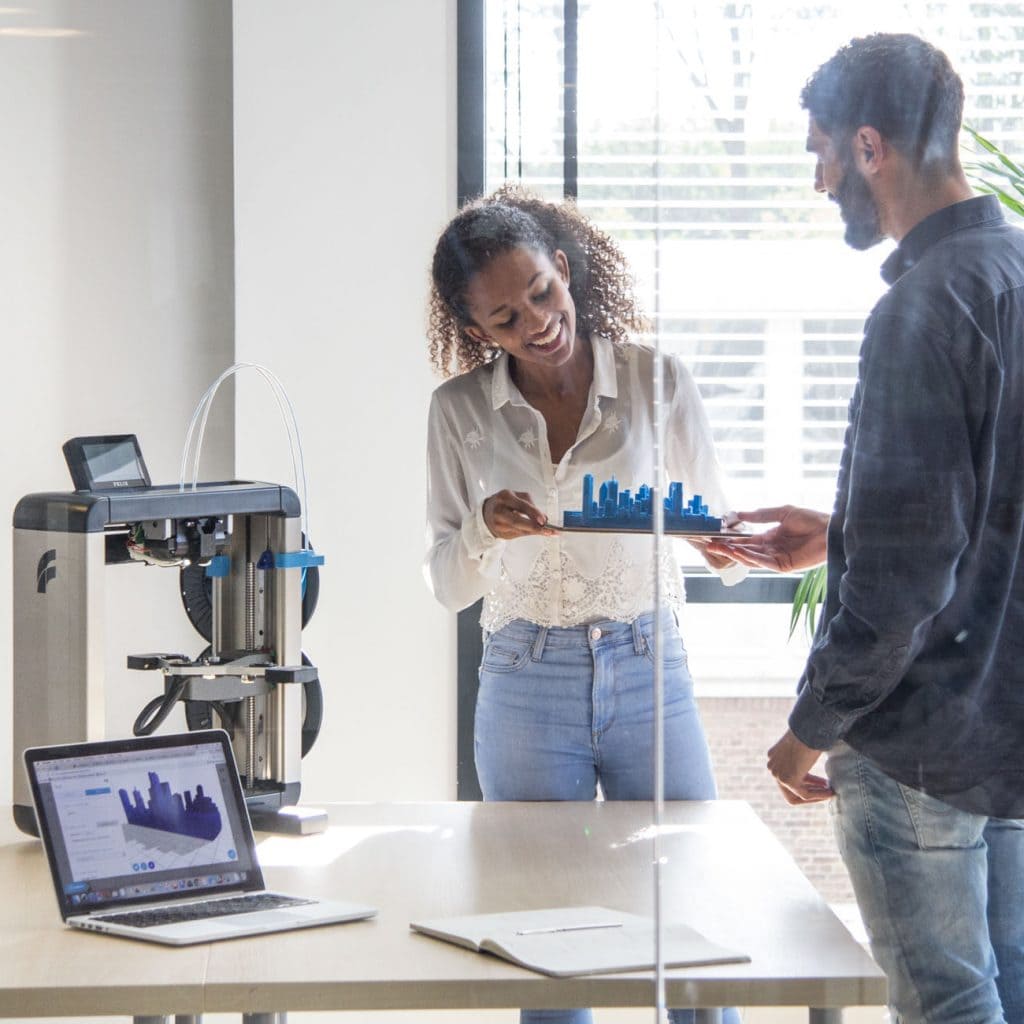 3d printer tandheelkunde
Een 3D printer in de tandheelkunde
De tandheelkunde omvat vele producten die met hoge nauwkeurigheid vervaardigd dienen te worden. Ieder gebit is anders en er is dus niet zoiets als een standaardformaat boorsjabloon of metaal voor frames. Een 3D-printer kan in een beperkt tijdsbestek een product met uiterste precisie printen en is daarmee een geschikt apparaat in deze branche. Het is ook niet voor niets dat er al op zeer grote schaal gebruik wordt gemaakt van de verschillende 3D-printtechnologieën in de tandheelkunde en de verwachting is dat het aantal 3D-printers in de tandheelkunde in de toekomst alleen maar zal toenemen. De mogelijkheden met een 3D-printer in de tandheelkunde zijn enorm. Zo kun je niet alleen kronen en bruggen maken met deze techniek, maar ook implantaten, aligners en complete gebitsprotheses.
Tandheelkunde met een 3D-printer
Verschillende printtechnieken kunnen worden ingezet om in de tandheelkunde met een 3D-printer materialen te vervaardigen. Printers die gebruikmaken van Digital Light Processing (DLP) zijn uitermate geschikt in dit vakgebied. De software zal een lichtgevoelige kunststof van onderen belichten, waardoor deze wordt uitgehard. Laag voor laag zal het te printen object worden opgebouwd. Stereolithografie wordt eveneens gebruikt bij het maken van gebitsmodellen. Bij deze technologie wordt er een laagje vloeibare hars over een bouwplaat geplaatst, dat vervolgens door middel van laserlicht op bepaalde plaatsen wordt uitgehard. Deze methode is minder nauwkeurig dan printen middels Digital Light Processing en bij stereolithografie gaat doorgaans meer materiaal verloren. Fused Fillament Fabrication en Fused Deposition Modeling zijn technieken die minder geschikt zijn in de tandheelkunde en worden hier dan ook zelden toegepast.
Een 3D-printer voor de tandheelkunde kopen
Je kunt een 3D-printer voor de tandheelkunde kopen bij FELIXprinters. Bekijk onze collectie aan DLP-printers om een apparaat te vinden voor het printen van je nachtbeugels of boormallen. Je kunt bij ons eveneens terecht voor je upgrade kits en onderhouds- en reparatieartikelen. Je kunt onze supportafdeling bezoeken om de antwoorden op veelgestelde vragen te vinden. Schroom niet om je tot onze klantenservice te wenden als je ook na het lezen van de FAQ nog vragen hebt over een van onze printers of over de mogelijkheden van het apparaat dat je op het oog hebt.
FELIX 3D printers
Range of Reliable & Accurate 3D Printers To Make Your Ideas Become Reality
ALL ABOUT FELIXPRINTERS AS FEATURED ON "DE BAROMETER"