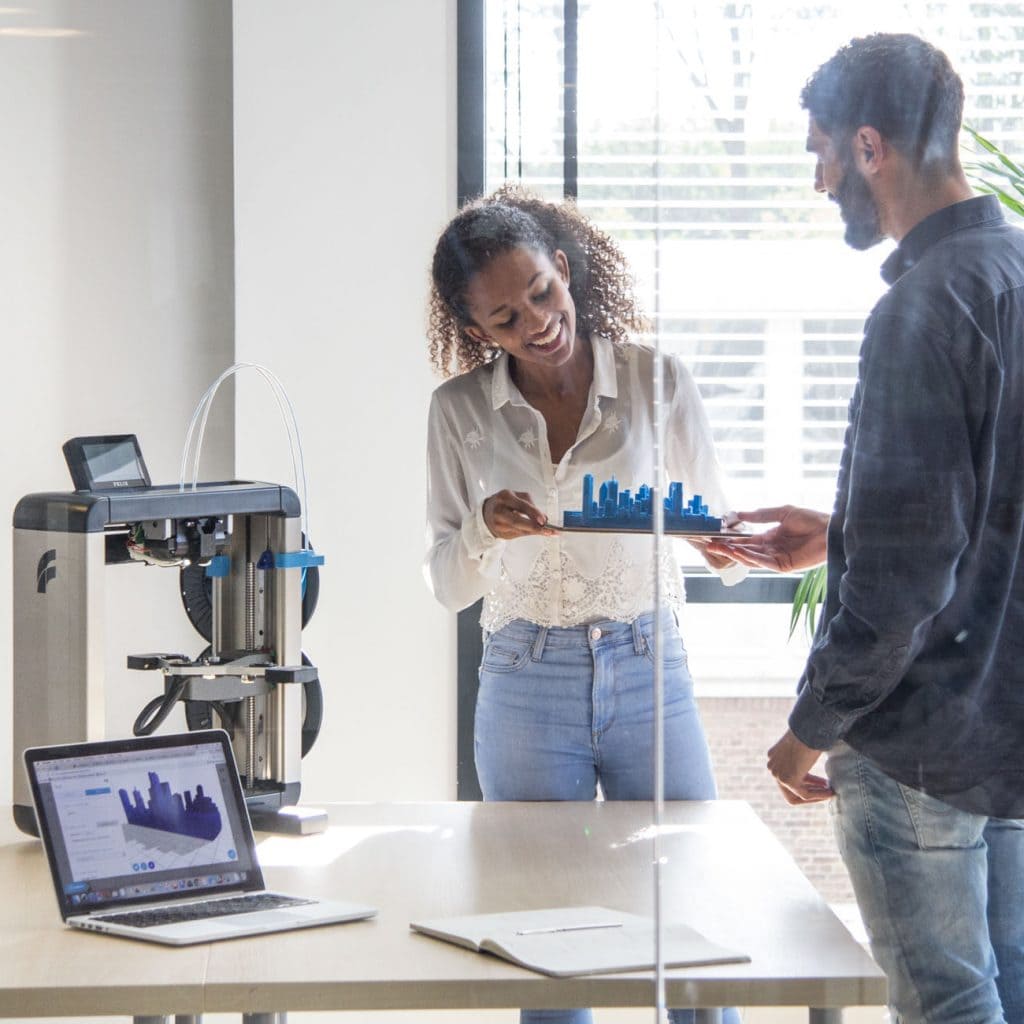 3d printer onderwijs
Waarom kiezen voor een 3D-printer in het onderwijs?
Het gebruik van een 3D-printer in het onderwijs kan op vele gebieden unieke leermogelijkheden bieden. Door driedimensionale hulpmiddelen te printen, kunnen ingewikkelde onderwerpen worden geïllustreerd en daardoor zijn de leerlingen in staat om een beter beeld te vormen. Een goed voorbeeld waar 3D printen een andere leerervaring kan bieden, is tijdens de biologieles. Hoe anders is het om een natuurgetrouw voorbeeld van een orgaan van het menselijk lichaam te kunnen bekijken in plaats van kennis op de doen aan de hand van illustraties in een boek? Maar ook met het oog op de toekomst levert het gebruik van een 3D-printer een belangrijke bijdrage.
Een 3D-printer voor het onderwijs
Steeds minder kinderen kiezen voor hun vervolgopleiding voor techniek en dit is jammer, want techniek lijkt een steeds grotere rol te gaan spelen in ons leven. Om de interesse van kinderen te wekken voor het kiezen voor een technische opleiding, is het zaak dat ze al op een positieve manier in aanraking zijn geweest met techniek. Door te laten zien wat de mogelijkheden zijn met een 3D-printer en belangrijker nog, door ze onderdeel te laten zijn van het ontwerpproces en van het creëren van objecten, maak je techniek een stuk interessanter dan het beeld dat zij vooraf waarschijnlijk hadden van deze studierichting. Een 3D-printer voor het onderwijs kan het onderzoekend denkvermogen en creativiteit stimuleren en deze vaardigheden zijn belangrijk in de techniek, maar ook in andere vakgebieden.
Een 3D-printer voor onderwijs kopen bij FELIX-printers
Je kunt een 3D-printer voor het onderwijs kopen bij FELIXprinters. De printers uit onze Felix Tec- en de Felix 4L-serie zijn veilig en betrouwbaar en zijn ideaal om te gebruiken in een klaslokaal. De automatische filamentdetectie- en kalibratiefunctie van onze printers voorkomen dat er geen fouten ontstaan door een slecht filament of door een handmatige aanpassing. Voor het printen van ingewikkelde objecten kun je kiezen voor dual head printing. Naast het leveren van goede producten kun je rekenen op een hoogwaardige klantenservice van onze kant. Schroom dan ook niet om bij vragen over de printers en hun mogelijkheden een mailtje te sturen naar onze klantenservice.
FELIX 3D printers
Range of Reliable & Accurate 3D Printers To Make Your Ideas Become Reality
ALL ABOUT FELIXPRINTERS AS FEATURED ON "DE BAROMETER"