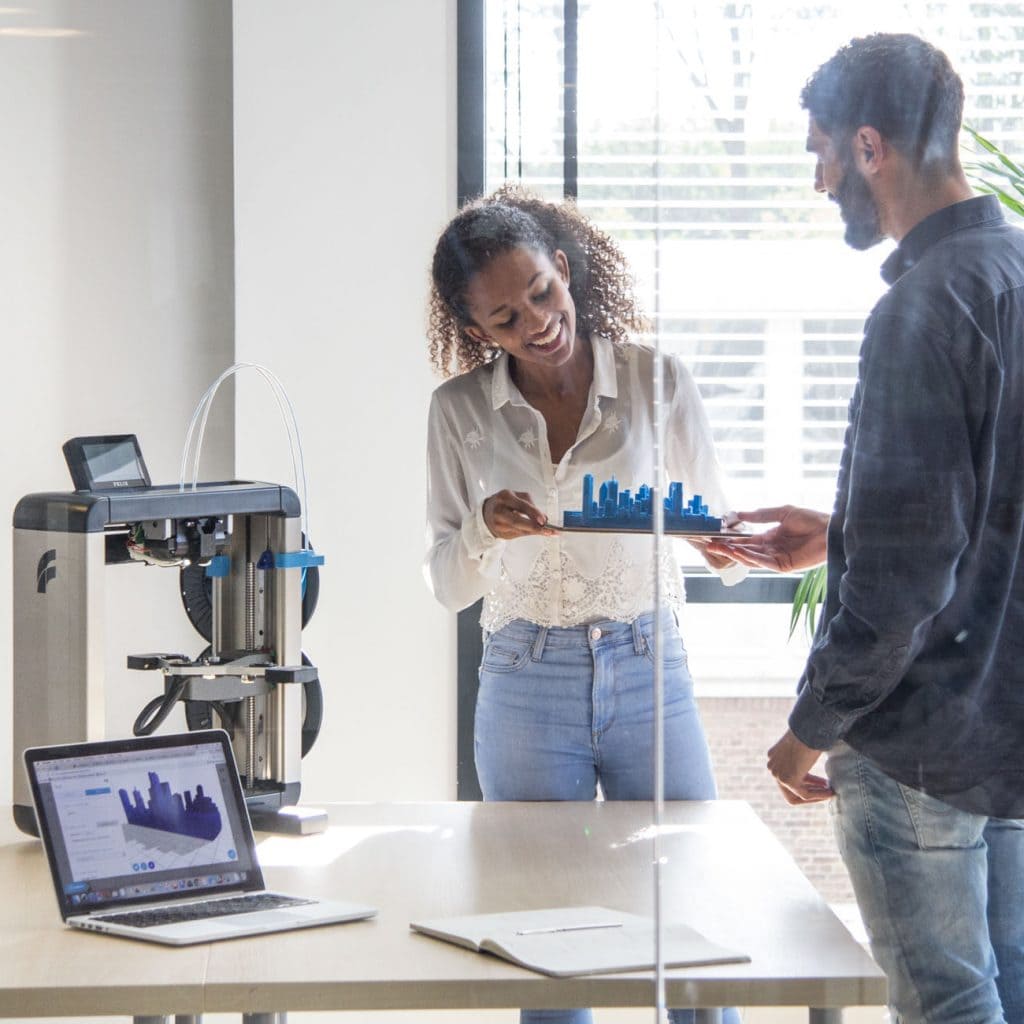 3d printer meubels
3D-printer om meubels te printen
3D-prints worden in diverse vakgebieden gebruikt om beschadigde onderdelen te vervangen, om ideeën vorm te geven of om bestaande objecten te verfraaien. Zo kan een moeilijk verkrijgbaar onderdeel voor een bepaald type auto worden geprint, kan een prothese op maat worden gemaakt en kan voedsel visueel aantrekkelijker worden gemaakt door dit in mooie vormen af te drukken. Ook in de interieurbranche kan een 3D-printer worden gebruikt. Je kunt hierbij denken aan het maken van kleinere woonaccessoires als sierbeeldjes, bloemenvazen en andere vormen van decoratie, maar het gebruiken een 3D-printer om meubels te printen biedt voor elke meubelmaker die eigenzinnige designs en creativiteit hoog in het vaandel heeft staan tal val mogelijkheden.
Een 3D-printer in de meubelindustrie
Een 3D-printer in de meubelindustrie maakt het eenvoudiger om aan de wensen van zelfs zeer veeleisende klanten te voldoen. Aan de hand van een 3D-scan kunnen de meest bijzondere vormen en ontwerpen worden geproduceerd. Door de kiezen voor verschillende materialen, die met een 3D-printer op een andere wijze kunnen worden gebruikt dan wanneer je manueel een stoel of bijzettafeltje vervaardigd, zijn de mogelijkheden eindeloos. De verbeelding van een creatief brein hoeft, wanneer je gebruikmaakt van deze technologie, niet te worden beperkt door eventuele onmogelijkheden waar je tegenaan zou kunnen tijdens het traditionele productieproces. Vrijwel alles is mogelijk.
Een meubel 3D-printer voor uniek interieurontwerp
Ben je actief in de meubelindustrie en spreekt het idee van de eindeloze ontwerpmogelijkheden je aan? Dan kun je kiezen voor een meubel 3D-printer om jouw interieurideeën werkelijkheid te laten worden. Neem gerust telefonisch contact op met FELIXprinters om te bespreken wat je precies verwacht van een 3D-printer en aan welke eisen deze dient te voldoen om jouw droomproducten te kunnen printen. Wij spreken dan samen de mogelijkheden door en kunnen desgewenst aan de slag gaan met het assembleren van de perfecte printer voor jouw doeleinden.
FELIX 3D printers
Range of Reliable & Accurate 3D Printers To Make Your Ideas Become Reality
ALL ABOUT FELIXPRINTERS AS FEATURED ON "DE BAROMETER"