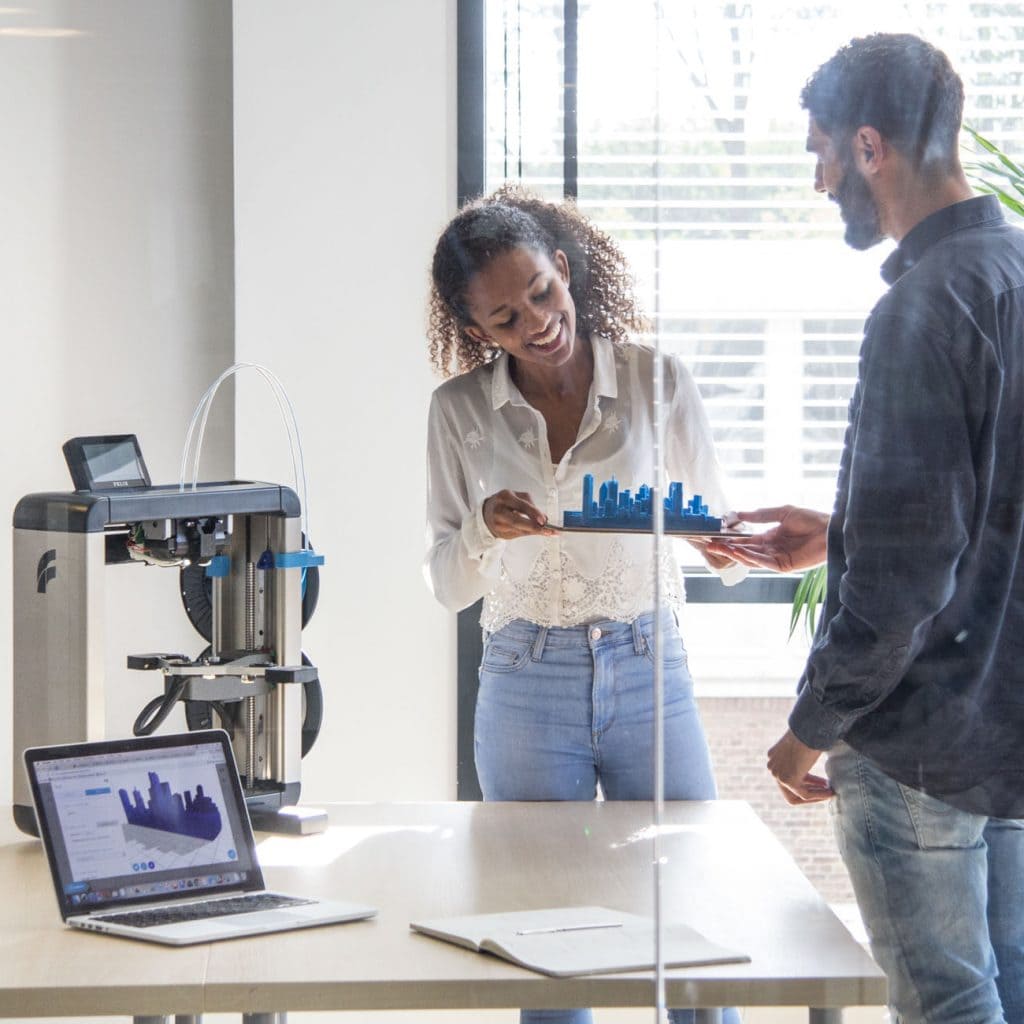 3d printer horeca
Een 3D-printer in de horeca als verrijking
Voedsel op de juiste manier bereiden en garen zal helaas (nog) niet mogelijk zijn met een 3D-printer, maar een 3D-printer in de horeca kan desalniettemin een grote verrijking zijn binnen de branche. In veel restaurants, met name de chiquere gelegenheden, is niet alleen de smaakbeleving een vereiste voor een hoogstaand gerecht, maar ook de presentatie van de etenswaren is een essentieel onderdeel van een sterrenrestaurant. Met een 3D-printer kunnen koks hun desserts verfraaien met mooie motieven en driedimensionale figuren om van de te serveren voedingswaren een waar kunstwerk te maken.
Een horeca 3D-printer kopen
Een horeca 3D-printer kopen is een manier om veel tijd te besparen bij het garneren van voedsel. Zeker bij de wat ingewikkeldere vormen biedt dit apparaat uitkomst. Je bespaart niet alleen veel tijd, je bent er ook van verzekerd dat er een object wordt gefabriceerd dat perfect vormgegeven is. Door de fantasie de vrije loop te laten, kunnen er geheel nieuwe creaties worden ontworpen. Creaties die we vandaag de dag nog helemaal niet kennen. Excellentie, creativiteit en vernieuwing zijn noodzakelijk om je te onderscheiden van de concurrentie en het gebruik van een 3D-printer kan hier absoluut in bijdragen.
3D-printers in de horeca
Je kunt 3D-printers in de horeca gebruiken om je gerechten op een mooie manier te presenteren, maar ook kun je bestaande smaken op zo een wijze opbouwen, dat deze een vernieuwende smaakbeleving zullen geven. Zie je een 3D-printer in jouw eetgelegenheid wel zitten om je menukaart naar een hoger niveau te kunnen tillen? Bekijk dan onze collectie foodprinters. Als onze standaard voedselprinters niet kunnen waarmaken wat jij voor ogen hebt, dan kun je een gesprek aanvragen met een medewerker van FELIXprinters. Jouw specifieke wensen zullen uitvoerig onder de loep worden genomen en de mogelijkheden zullen met je worden besproken, zodat we een printer op maat kunnen maken die jou wél kan bieden wat je wenst.
FELIX 3D printers
Range of Reliable & Accurate 3D Printers To Make Your Ideas Become Reality
ALL ABOUT FELIXPRINTERS AS FEATURED ON "DE BAROMETER"