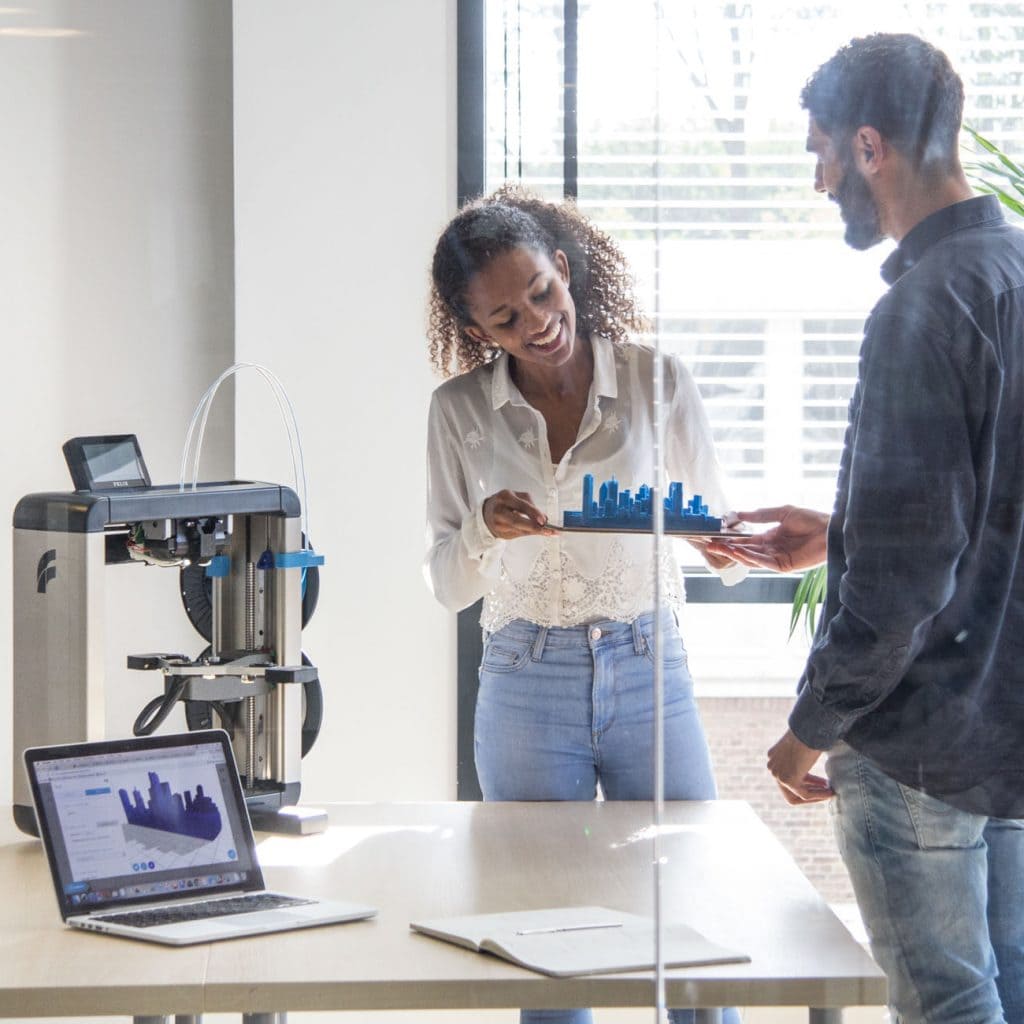 3d printer bouw

Een 3D-printer in de bouw kent vele voordelen
In de bouwsector kan een 3D-printer diverse voordelen opleveren. Je kunt verspilling van materialen voorkomen, doordat je de exacte hoeveelheden die nodig zijn kunt printen. Wanneer je een 3D-printer in de bouw op locatie kunt aansluiten, kun je ter plaatse het benodigde object printen, zodat tijd en kosten die je anders kwijt zou zijn aan het transport kunt besparen. Doordat je aan de hand van een scan precies kunt printen wat je nodig hebt om verder te kunnen met het bouwproject, heb je niet langer te maken met lange levertijden en hoeft de uitvoering van het project niet stil komen te liggen, omdat je afhankelijk bent van je leverancier. Het gebruik van een 3D-printer in de bouw is een duurzame manier van werken.
3D printen in de bouw bij renovatiewerkzaamheden
3D printen in de bouw kan ook bij renovatiewerkzaamheden uitkomst bieden. Wanneer de historische details in een bouwwerk door de tand des tijds of door barre weersomstandigheden zijn vervaagd of zelfs zijn verwoest, kun je deze details aan de hand van een 3D-scan tot in perfectie reproduceren. Ook een onderdeel dat niet langer leverbaar is of zelfs niet langer bestaat, kun je printen met een 3D-printer om het gebouw te kunnen herstellen. De mogelijkheden op het gebied van 3D printen zijn enorm en zullen in de toekomst alleen nog maar groter worden.
Een 3D-printer voor de bouw kopen bij FELIXprinters
Bij FELIXprinters kun je een 3D-printer voor de bouw kopen. Je kunt kiezen voor een van onze printers in de webshop, maar je kunt ook je wensen met een van onze professionele medewerkers bespreken, zodat er een 3D-printer op maat kan worden samengesteld die aan als jouw vereisten kan voldoen. Een groot voordeel van onze 3D-printers is dat deze uit te breiden zijn. Als de technologie een flinke ontwikkeling doormaakt en jij wilt ook gebruik kunnen maken van de nieuwste printtechnieken, dan hoef je geen nieuwe release te kopen. Je huidige printer te upgraden is dan voldoende.
FELIX 3D printers
Range of Reliable & Accurate 3D Printers To Make Your Ideas Become Reality
ALL ABOUT FELIXPRINTERS AS FEATURED ON "DE BAROMETER"