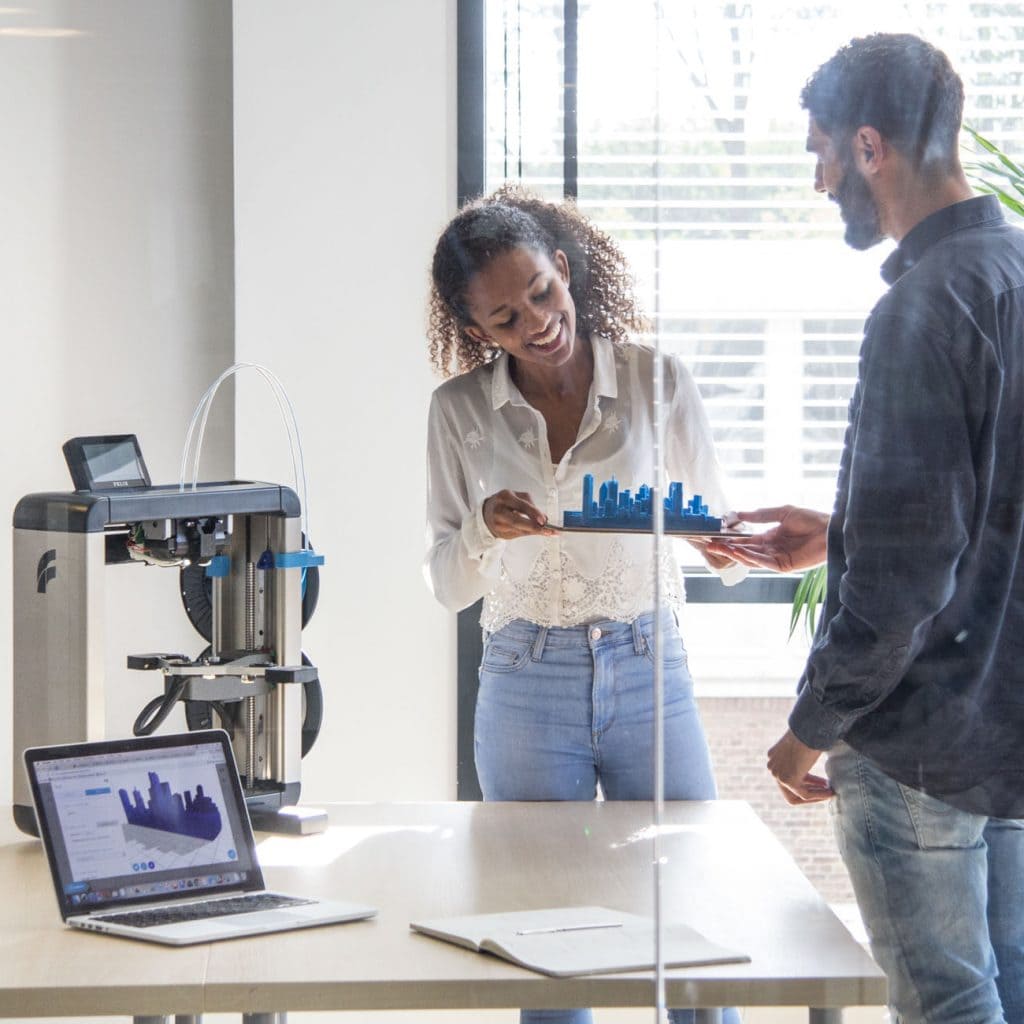 3d printer advies
Heeft u 3d printer advies nodig?
Overweegt uw organisatie het gebruik van een 3d printer? Een professionele 3d printer is een grote investering en hiermee kunt u nieuwe wegen inslaan, door gebruik te maken van de meest moderne productietechnieken. 3d printertechnologie kan in vele opzichten nauwkeuriger zijn dan andere productietechnologieën. Daarnaast kan een 3d printer in vele sectoren worden gebruikt, van de maakindustrie tot de voedselindustrie of in het onderwijs. Een 3d printer aankopen doet u daarom niet zomaar even. Het is een weloverwogen keuze, waarbij u al uw bedrijfsprocessen betrekt. Zorg daarom voordat u tot een definitieve aankoop overgaat, dat u voldoende 3d printer advies krijgt.
Krijg deskundig advies over jouw 3d printer
Omdat de 3d printtechnologie voor veel organisaties nog nieuw is, is deskundig advies over een 3d printer essentieel. Gaat u hiervoor naar de deskundigen van FELIXprinters, dan heeft u te maken met een Nederlandse 3d printerpartner die vooruitloop op het gebied van 3d printtechnologie. Wij ontwerpen onze eigen 3d printers met de allernieuwste technieken. Uniek aan onze printers, is dat zij upgradable zijn. Uw 3d printer raakt hierdoor lang zo snel niet verouderd, maar implementeert de nieuwste technologie in uw bestaande 3d printer. Welke van onze 3d printers het beste is voor uw organisatie? Dat is niet altijd even gemakkelijk te bepalen. Neem daarom gerust contact met ons op voor advies over een 3d printer die bij uw organisatie past.
Kom voor professioneel 3d printer advies naar FELIXprinters
Wij zijn veel meer dan uw leverancier van een 3d printer. Wij zijn een strategische partner waar u voor professioneel 3d printer advies altijd welkom bent. Niet alleen adviseren wij u over de meeste geschikte 3d printer voor uw organisatie. De meeste vragen zullen naar boven komen nadat de 3d printer is geïmplementeerd. Juist dan heeft u behoefte aan een deskundige en professionele partner. Onze deskundigen staan ook dan voor u klaar. Wij zijn van mening dat onze geleverde service en dienstverlening net zoveel aandacht verdient als onze 3d printers. Neem dus gerust contact met ons op, als u behoefte heeft aan professioneel 3d printer advies.
FELIX 3D printers
Range of Reliable & Accurate 3D Printers To Make Your Ideas Become Reality
ALL ABOUT FELIXPRINTERS AS FEATURED ON "DE BAROMETER"