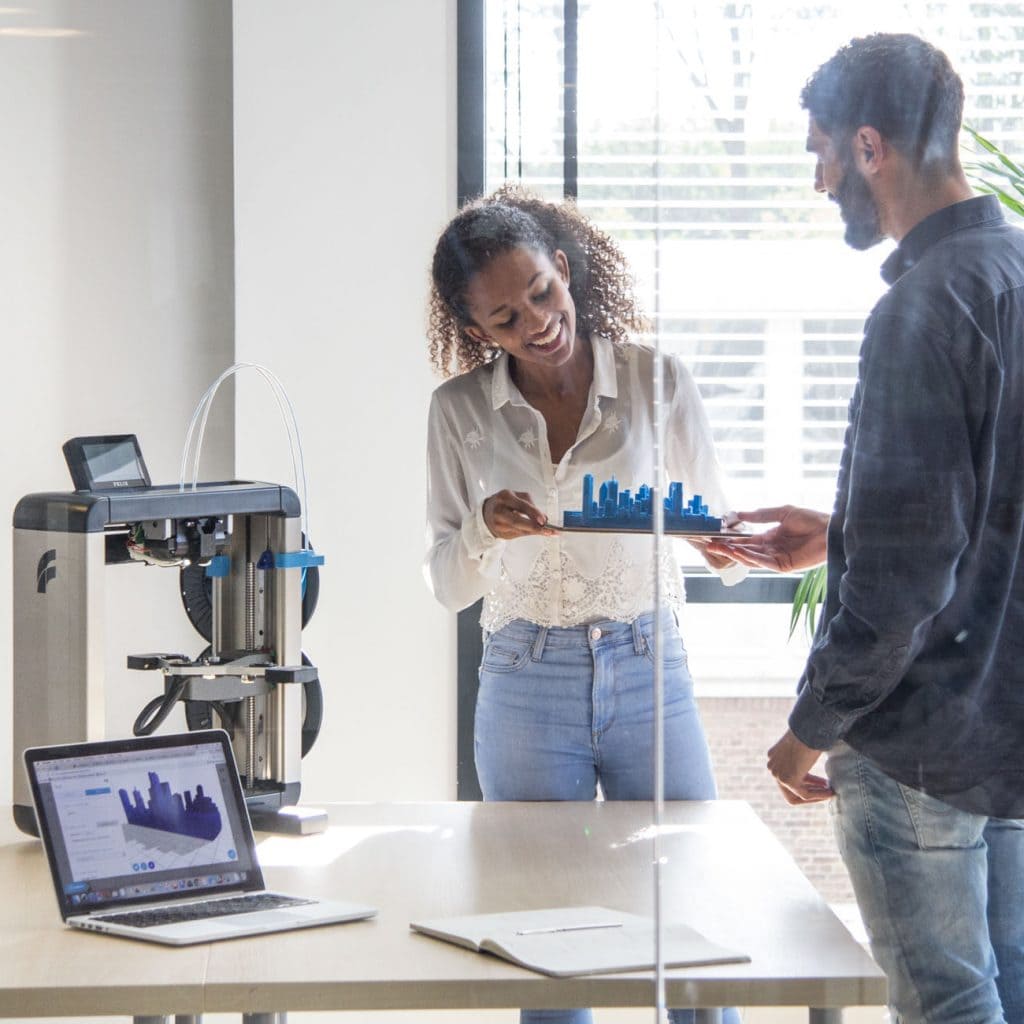 3d printen gezondheidszorg
3D printen in de gezondheidszorg
Het toepassen van 3D printen in de gezondheidszorg wordt al op grote schaal gedaan en deze manier van printen zal in deze sector in de toekomst alleen nog maar toenemen. Waar nu al protheses en tandheelkundige implantaten kunnen worden geprint, zal 3D printen ook veelvuldig kunnen worden ingezet bij plastische chirurgie en wellicht wordt het in de toekomst mogelijk om organen te printen van biomateriaal die volledig functioneren. Al wordt er nog volop onderzoek gedaan naar de mogelijkheden om menselijk kraakbeen te printen en de opties om stamcellen te gebruiken, ook nu zijn er al vele toepassingen mogelijk.
Een 3D-printer in de gezondheidszorg voor uiteenlopende toepassingen
Een van de grote voordelen van een 3D-printer in de gezondheidszorg is dat het verrichten van maatwerk vele malen eenvoudiger en sneller kan geschieden. Waar op de traditionele werkwijze gebruik gemaakt wordt van gipsafdrukken om de vormen van een gebit vast te leggen, kan dit met een 3D-printer eenvoudig door het maken van een scan om deze afbeelding vervolgens driedimensionaal af te drukken. Bij protheses van ledematen is dit niet anders. Het object kan op exact zo'n manier worden geprint dat deze perfect past op de lichaamsvormen van de patiënt. Of je nu in de tandheelkunde werkt, in de chirurgie of in de prothetiek, een 3D-printer kan je het vervaardigen van maatwerkproducten uit handen nemen, waarbij je zowel kosten als kostbare tijd wordt bespaard.
Een 3D-printer voor in de gezondheidszorg kopen bij FELIXprinters
Je kunt een 3D-printer voor in de gezondheidszorg kopen bij FELIXprinters. Door contact op te nemen met een van onze professionele medewerkers, kunnen we gezamenlijk je vereisten en wensen die de printer betreffen doornemen om zo dé 3D-printer te kunnen assembleren die aan al je verwachtingen voldoet. Ook kun je bij ons rekenen op levenslange productondersteuning. Vind je je antwoord op je vraag niet door de FAQ-sectie op onze website door te lezen, neem dan gerust contact met ons op. Het maakt ons niet uit wanneer je je printer bij ons gekocht hebt. Wij zijn er voor je om het maximale uit je aankoop te halen.
FELIX 3D printers
Range of Reliable & Accurate 3D Printers To Make Your Ideas Become Reality
ALL ABOUT FELIXPRINTERS AS FEATURED ON "DE BAROMETER"