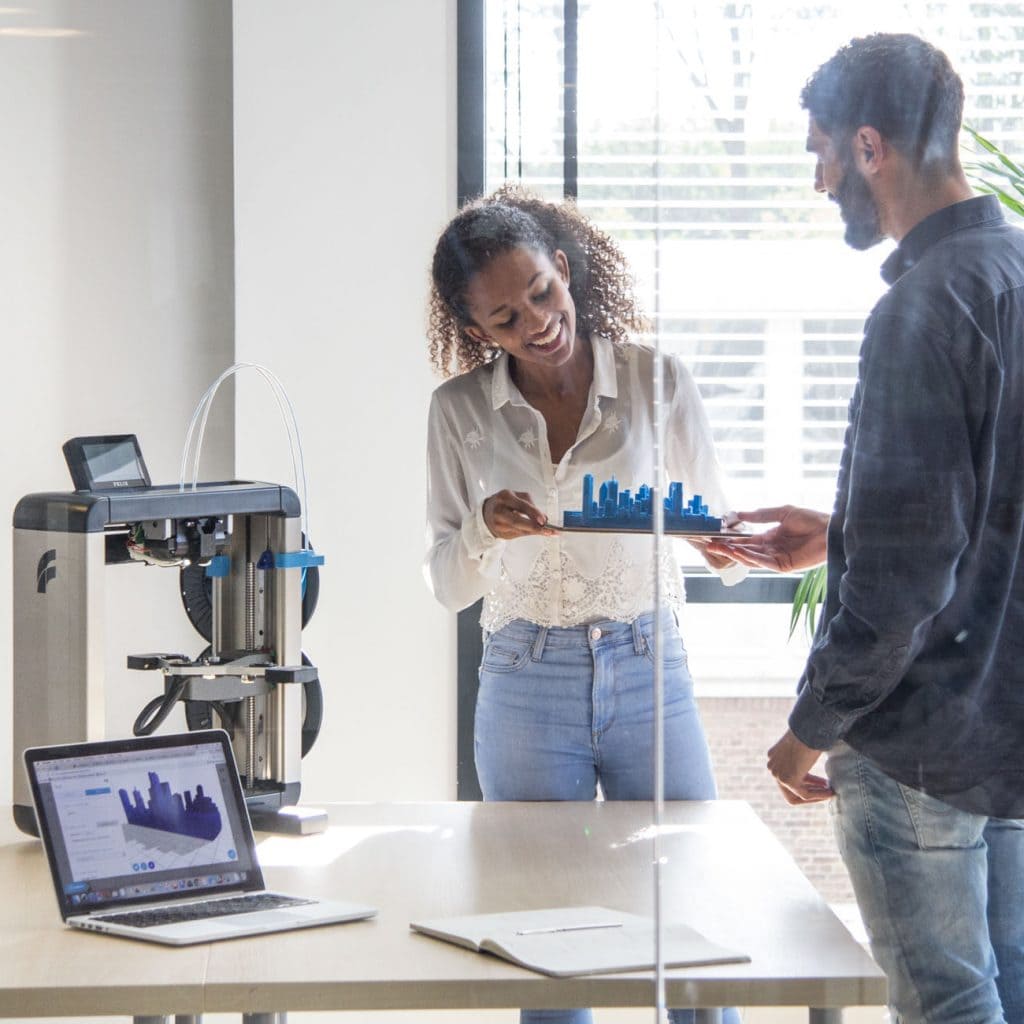 3d printen architectuur
3D printen binnen de architectuur
Architecten werken veel met maquettes en schaalmodellen om een ontwerp beter te kunnen visualiseren. Ook kunnen deze driedimensionale miniaturen een waardevolle toevoeging zijn aan een presentatie. Als een potentiële investeerder voor zich ziet wat de bouwkundige plannen zijn, is het over het algemeen gemakkelijker om deze te overtuigen dan wanneer je uitsluitend over bouwtekeningen beschikt. Uiteraard zijn er ook andere manieren om schaalmodellen te maken, maar deze zijn vaak behoorlijk arbeidsintensief en zeer tijdrovend. Door 3D printen toe de passen binnen de architectuur, gaat er een wereld open aan mogelijkheden en kun je je creatieve bouwplannen al in een vroeg stadium tot leven brengen.
Een 3D-printer voor de architectuur
Een 3D-printer voor de architectuur bestellen kun je doen bij FELIXprinters. Zo beschik je over een apparaat dat je kan bijstaan in de ontwerpfase van een project, maar ook een grote bijdrage kan leveren aan de presentatie. Neem eens een kijkje in onze webshop en ontdek onze verschillende 3D-printers. Al onze printers hebben de optie om uitgebreid te worden aan de hand van upgrades. Je hoeft dus niet bang te zijn dat je over een jaar een compleet nieuwe 3D-printer moet bestellen om gebruik te kunnen maken van de technieken die dan beschikbaar zijn.
Bij FELIXprinters je 3D-printer voor de architectuur kopen
Wanneer je ervoor kiest om je 3D-printer voor de architectuur te kopen bij FELIXprinters, kiest je niet alleen voor een kwaliteitsprinter, maar ook voor levenslange productsupport. Je hebt altijd toegang tot de supportpagina op onze website om de antwoorden op je vragen te vinden én je kunt op elk gewenst moment met onze medewerkers is contact treden om je vragen over je printer of firmware te stellen. Klanttevredenheid staat bij ons hoog in het vaandel en FELIXprinters wordt dan ook niet voor niets als uitstekend beoordeeld door zijn klanten. Lees de recensies op onze website eens door en help toekomstige klanten door ook jouw ervaringen met ons achter in een beoordeling.
FELIX 3D printers
Range of Reliable & Accurate 3D Printers To Make Your Ideas Become Reality
ALL ABOUT FELIXPRINTERS AS FEATURED ON "DE BAROMETER"