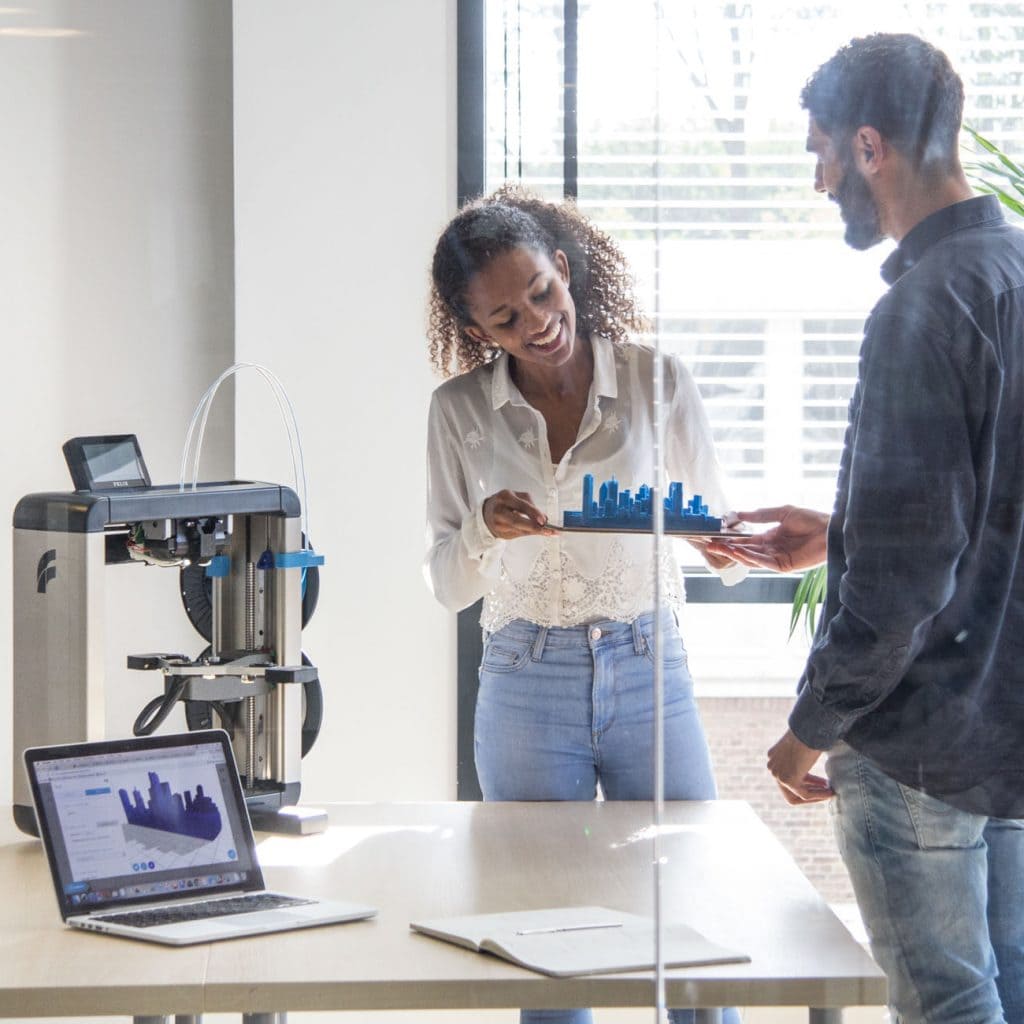 3d foodprinter
Een nieuwe wijze van voedsel presenteren met de 3D foodprinter
De voedselverwerkingsindustrie betreedt met de 3D foodprinter een nieuw tijdperk. Hoewel de 3D printtechnologie nog steeds volop in de ontwikkelfase zit, zijn er al verbluffende resultaten te behalen met 3D printen. De 3D printer kan voor allerlei bedrijfstakken een nuttige aanvulling zijn, waaronder de 3D foodprinter voor de voedselverwerkingsindustrie. Er kunnen voedselcreaties ontworpen worden die vandaag de dag nog helemaal niet bestaan. Koken zal de printer nog niet kunnen doen, maar prachtige presentaties maken met de foodprinter is zeker goed mogelijk. Daarom zal de foodprinter door vooral de horeca met open armen worden ontvangen.
Een 3D foodprinter kopen bij FELIXprinters
Als innoverende onderneming helpt FELIXprinters ondernemers graag vooruit die de mogelijkheden van 3D printers willen ontdekken. FELIXprinters heeft een assortiment van diverse 3D printers voor diverse branches. De 3D foodprinter kopen is vooral interessant voor horecabedrijven en bedrijven uit de voedselverwerkingsbranche. Hiermee kunnen mooie creaties gemaakt worden van voedsel, zonder dat er tijd verloren gaat. Sterker nog, er valt zelfs tijd mee te winnen. Vooruitstrevende bedrijven in de voedselverwerkingsbranche zullen graag een 3D foodprinter kopen. De foodprinter heeft namelijk de toekomst en zal na verdere ontwikkeling over nog meer innoverende mogelijkheden gaan beschikken.
De voordelen van 3D food printen
Bedrijven met een 3D food printen, kunnen profiteren van veel voordelen bij het 3D food printen. Zo staat de 3D foodprinter voor creativiteit. Hiermee kunnen horecaondernemingen zich onderscheiden met gerechten die klanten nog nooit hebben gezien. Daarnaast is de 3D foodprinter goed inzetbaar om gerechten te personaliseren. Er kan rekening gehouden worden met bepaalde voedingsbehoeften, een dieet of dat voedsel voor kinderen van een vrolijk creatief ontwerp worden voorzien. Doordat een mooie creatie veel aantrekkelijker is om te eten, zullen ondernemingen veel minder voedsel verspillen. De 3D foodprinter kan op termijn door efficiëntie en minder voedselverspilling veel geld opleveren.
FELIX 3D printers
Range of Reliable & Accurate 3D Printers To Make Your Ideas Become Reality
ALL ABOUT FELIXPRINTERS AS FEATURED ON "DE BAROMETER"