Upgrade Felix 2.0 to Felix 3.0 (home edition).
Posted: Thu May 22, 2014 10:08 am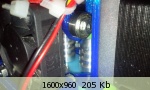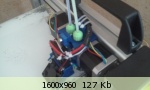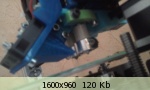 Only had to move the sensor Z axis, because the engine 48 mm in length, even if it is 40 mm, to transfer the sensor still have. The direction of rotation is reversed in the firmware. Change the number of steps on the mm for extruder, because the gear on the shaft of the engine are not original and was made to individual drawing it a little more. Clip plastic double type 2 extruders, lever-type. Single fan for cooling extruders and cooling models. Fan shroud directs the air directly under the nozzle. It gives immediate effect of hardening plastic and reduces smudges plastic with unused nozzle.
For upgrade you need: 2nd extruder, 2nd engine, 2nd gear on the shaft, thermistor, heater, and a few nuts and bolts. STL files you can get on request on e-mail
333zero777@mail.ru